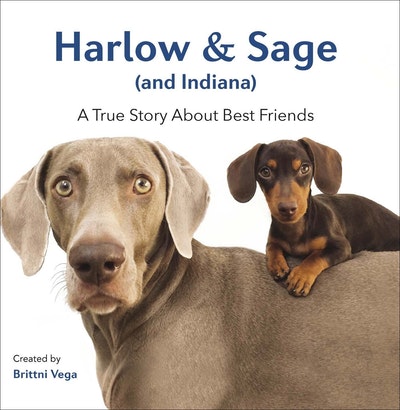 Published:

31 October 2014

ISBN:

9780143572299

Imprint:

Penguin

Format:

Hardback

Pages:

144

RRP:

$19.99
Harlow & Sage (and Indiana): A True Story About Best Friends
---
---
Written in the wise and witty voice of Harlow the Weimaraner, and richly illustrated with more than 125 stunning images of the highly photogenic pups, Harlow & Sage(and Indiana) is a tale about the bond among three dogs, connected by deep love and unparalleled friendship. (It is also a little about Meryl.)
Harlow and Sage (and Indiana) are three dogs who have taken Instagram by storm. 'Obsessed' is one word to describe followers of Harlowandsage.
Brittni Vega started posting photos of her two dogs on Instagram in March 2013. It went viral in September when Sage died. Indiana (Dachshund puppy) came along to help Harlow through the grieving process and the rest is history.
This is the back story, told by Harlow, in witty words and hilarious and moving photographs. It's a story with themes that will resonate with dog lovers of all ages.
Once upon a time, Harlow's best friend was her older sister, Sage, a thoughtful and loving Miniature Dachshund. Harlow and Sage had a shared love for many things, including Meryl Streep. They played together, cuddled together, and shared their deepest secrets, until sadly, it was Sage's time to visit the doggie palace in the sky.
Shortly after Sage's passing, Harlow's parents came home with Indiana, a Dachshund puppy with a killer sense of humor. After a few months of showing Indiana the ropes, Harlow began to recognise that a new adventure was about to unfold.
Written in the wise and witty voice of Harlow the Weimaraner, and richly illustrated with more than 125 stunning images of the highly photogenic pups, Harlow & Sage(and Indiana) is a tale about the bond among three dogs, connected by deep love and unparalleled friendship. (It is also a little about Meryl.)
'Now we are obsessed.' The Huffington Post
'I want to be their best friend too.' Buzzfeed
'We can't get enough.' OK! Magazine
Published:

31 October 2014

ISBN:

9780143572299

Imprint:

Penguin

Format:

Hardback

Pages:

144

RRP:

$19.99