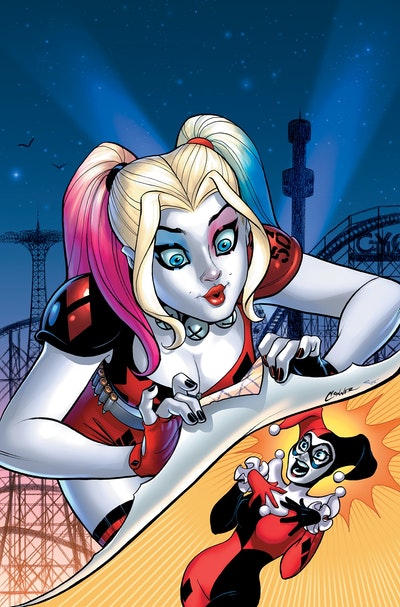 Published:

10 July 2018

ISBN:

9781401280659

Imprint:

DC Comics

Format:

Hardback

Pages:

384

RRP:

$59.99
Harley Quinn The Rebirth Deluxe Edition Book 2
---
---
Volumes 3 and 4 of HARLEY QUINN REBIRTH are collected here in hardcover for the first time!
If you thought breaking up with the Joker meant things would calm down for comics' most adorable antihero ... well, you ain't met Harley!
It's all-out nuttiness as Harley takes on the corrupt mayor of New York, a time-traveling assassin and her second-deadliest admirer, Harley Sinn, but the Mistress of Mayhem has it handled ... at least until her parents show up!
Mr. and Mrs. Quinzel are in town for their li'l monster's birthday, but is Harley ready for them to meet her crew, including gal-pal Poison Ivy and unstable mercenary Red Tool? By the time the folks' own skeletons finally come bursting out of their closet, Harley's birthday wish may be that she had just stayed in bed!
The unhinged adventures of Harley Quinn take a turn for the even weirder in Harley Quinn Rebirth Deluxe Edition Book 2, a hardcover collection of the smash-hit action-comedy series from writers Amanda Conner and Jimmy Palmiotti and artist John Timms, with backup stories by Palmiotti, Paul Dini and Bret Blevins. Collects Harley Quinn #14-27 and Harley Quinn 25th Anniversary Special!
Published:

10 July 2018

ISBN:

9781401280659

Imprint:

DC Comics

Format:

Hardback

Pages:

384

RRP:

$59.99
Praise for Harley Quinn The Rebirth Deluxe Edition Book 2
"We are treated to page after page of incredible interpretations of Harley and her wacky sense of adventure and violence." --COMIC VINE  "Amanda Conner and Jimmy Palmiotti did backflips through a minefield and stuck the landing." --COMICOSITY  "[Harley Quinn's] a complex character, and now, with Conner, Palmiotti, and Hardin at the reins, she's being given the treatment she's long since deserved." --IGN