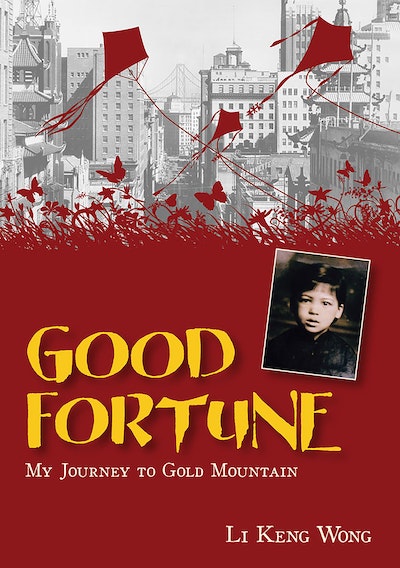 Published:

7 October 2008

ISBN:

9781561454648

Imprint:

Holiday House

Format:

Paperback

Pages:

144

RRP:

$14.99
Good Fortune
My Journey to Gold Mountain
---
---
In this dramatic memoir of early-twentieth century immigration, author Li Keng Wong shares her family's difficult journey from rural China to a new life in California.
In 1933, seven-year-old Li Keng's life changed forever when her father decided to bring his family from a small village in southern China to California. Getting to America was not easy, as their family faced America's strict anti-Chinese immigration laws that meant any misstep could mean deportation and disgrace. Life in America during the Great Depression brought many exciting surprises as well as many challenges. Hunger, poverty, police raids, frequent moves, and the occasional sting of racism were a part of everyday life, but slowly Li Keng and her family found stability and a true home in "Gold Mountain."
An author's note contains photos and an update on Li Keng Wong's family. This evocative memoir presents the joys and sorrows of pursuing the American Dream during a time of racism and great poverty, but also immense opportunity. The book also contains information on Angel Island and its significance in history as well as an explanation of the Chinese Exclusion Act.
Published:

7 October 2008

ISBN:

9781561454648

Imprint:

Holiday House

Format:

Paperback

Pages:

144

RRP:

$14.99
"This memoir clearly shows the hardships, sacrifices, and eventual successes of the Chinese families who came to America during the Depression. . . . Photographs of the family when they are older show prosperous and happy people and leave readers with a sense of the richness of the immigrant experience."—School Library Journal "The vivid cultural details. . . are fascinating, whether Wong is describing her mother's traditional wedding or the family's first apartment in California, where her father coped with the Depression by running a gambling business in the family's front room. The plain words leave room for readers to imagine their own emotional responses."—Booklist