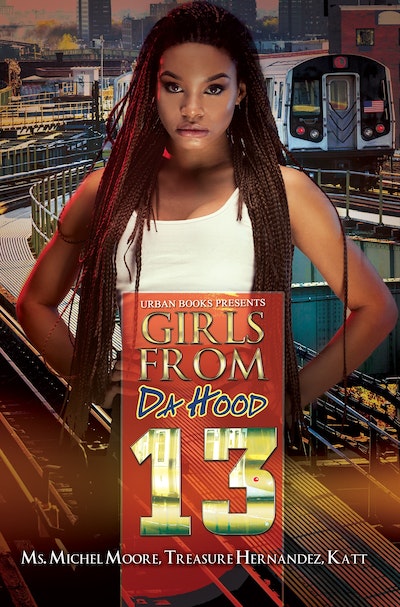 Published:

15 July 2018

ISBN:

9781622866953

Imprint:

Kensington

Format:

Paperback

Pages:

288

RRP:

$24.99
Girls From Da Hood 13
---
---
Three Urban Books authors have teamed up to bring the drama in this latest installment of the popular Girls from da Hood Series.
Get It, Get It! by Ms. Michel Moore: Monica was conceived on a pile of dirty clothes in the corner of a trap house. Cursed with a mother who worshiped the crack pipe more than her children, she quickly learned a Detroit reality: Get it how ya live, or die trying. The young teenager is forced to beg, borrow, and steal to make sure she and her siblings survive to see another day. Cutthroat and conniving, Monica will make it, no matter who she has to step on or step over.
He Can't Break Me by Treasure Hernandez: Drugs, alcohol, sexual abuse, shoplifting, and multiple men running in and out of their household were all part of the tragic childhood of Tameka Davis. Determined to get out of the hood and become everything her ratchet mother isn't, the young girl sets out on a mission. Only days from beginning her senior year, however, she meets Harry O, who soon convinces his new, naïve-to-the-game friend to become a mule for him. What is supposed to be a one-time thing quickly becomes far worse than anything she's ever faced.
Sinful Vows by Katt: What starts off as a seemingly innocent friendship between Tyrone and Sasha soon becomes more when freaky Tyrone eagerly introduces the timid Sasha to his salacious lifestyle of "try anything; do anything." Caught up in a whirlwind of sex, lust, deception, and lies, Sasha begins to crave all that her newfound relationship brings. Sasha marries the "bad boy of fetish," and in order to keep him satisfied, she delves into other taboos, leading to nothing but turmoil and chaos for the newlyweds.
Published:

15 July 2018

ISBN:

9781622866953

Imprint:

Kensington

Format:

Paperback

Pages:

288

RRP:

$24.99