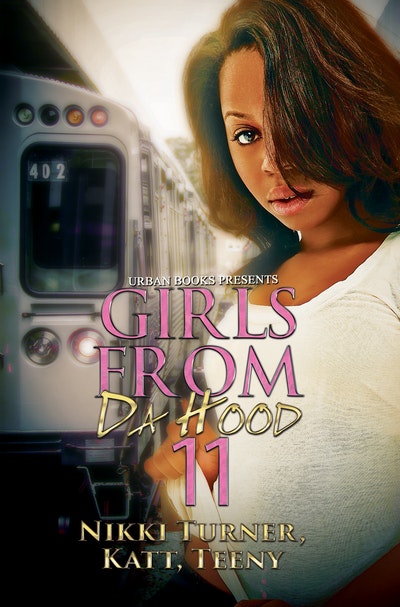 Published:

15 July 2017

ISBN:

9781622865628

Imprint:

Kensington

Format:

Trade Paperback

Pages:

384

RRP:

$12.99
Girls From Da Hood 11
---
---
"Trust Issues" by Nikki Turner: Kima has always felt like a burden to her grandmother. As soon as she's old enough, she heads out on her own, thinking she's met her knight in shining armor. What she doesn't know is that he's anything but good. Kori is a womanizing drug dealer who would sell his own mother if he was caught in a jam. Will Kima's new man be her salvation, or will he be the death of her?
"Twisted Triangles" by Katt: Mike-B and his homie-for-life, Jeff, think they have met their ride or die chicks. Lenore and Denise have plans of their own, however. They do what they do and leave behind a body or two. When murder hits home and the bodies start piling up, Mike-B is wondering what went wrong. In this twisted triangle, who is going to get stuck with the bodies?
"Baby Mamas Club" by Teeny: Keysha, Monica, and Bree all have one thing in common: the same reckless baby daddy. Keysha has the most intense feelings toward him, and no matter what Tremaine does, she is determined to make his life a living hell. If he's not willing to step up his game and take care of his responsibilities, then she has plans that will make him regret that he ever made her his baby's mama.
"The Side Hoes Club" by Teeny: Sticks and stones can break bones, but Miah Jefferson is proud of her side-ho status—until things take a drastic turn for the worst. Then she will be forced to reach deep within her soul to find out why she chooses to date men like Moses, Carl, and Juan. With men who take such good care of her, will she ultimately be willing to abandon her status as the other woman?
Story Locale: Brooklyn, New York
Published:

15 July 2017

ISBN:

9781622865628

Imprint:

Kensington

Format:

Trade Paperback

Pages:

384

RRP:

$12.99