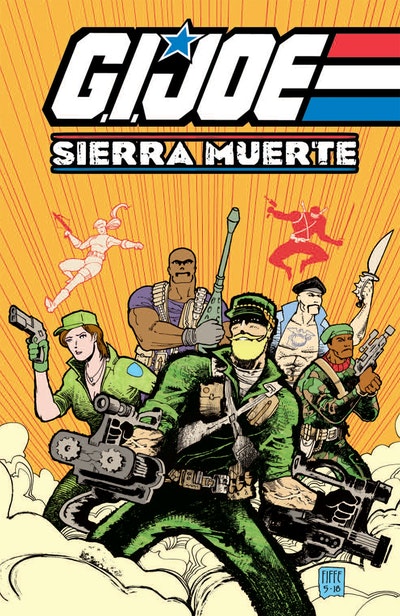 Published:

27 August 2019

ISBN:

9781684055241

Imprint:

IDW Publishing

Format:

Paperback

Pages:

104

RRP:

$26.99
G.I. JOE: Sierra Muerte
---
---
Containing all of the elements of the classic comic book series, this all-new story is a brilliant, contemporary, and loving homage to all things G.I. Joe!
Visionary creator Michel Fiffe unleashes his imagination on the thrilling, amazing, and wonderful world of G.I. Joe! Eccentric soldiers battling bizarre terrorists take center stage in this bombastic account of G.I. Joe's quintessential mission against Cobra! Through a beachside ambush, a compromised manhunt, and a revenge plan that backfires, America's fighting elite risk life, love, and honor in this brutal globe-spanning adventure.
Also contains back-up material featuring an in-depth exploration of the classic comic book series, G.I. JOE: A Real American Hero, including an interview with original series writer Larry Hama.
Published:

27 August 2019

ISBN:

9781684055241

Imprint:

IDW Publishing

Format:

Paperback

Pages:

104

RRP:

$26.99
Praise for G.I. JOE: Sierra Muerte
"New fans, don't be pushed away. You'll love this book because even though it uses a nostalgic set up, it's a great story that will pull you in and make you want more." -441Mania "Fiffe has a knack for putting together stories that feel like they're a fan playing with the toys and just seeing where it goes. An over-the-top and at times humorous adventure." -Graphic Policy "We're always happy to see Michel Fiffe's name attached to a new project, especially when that project involves Fiffe putting a subversive spin on an old favorite franchise." -IGN "Fiffe brings his very distinct sequential art sensibilities to a classic pop-culture property, making it both completely new, unique, and a love letter (that) old die-hard fans will love." -Monkeys Fighting Robots "IDW should be applauded for championing such an auteur-driven piece. We need more of this in comics." -Multiversity Comics "In many ways, this is the comic that Michel Fiffe has been working on for his entire career. Fiffe's idiosyncratic pop art style of thick lines, ben-day dots, and clashing colors could only belong to this artist. The lighter details in some panels convey a sense of Fiffe pouring all of his energy into a singular burst of art, and what came out at the other end was pure unadulterated enthusiasm." -Newsarama