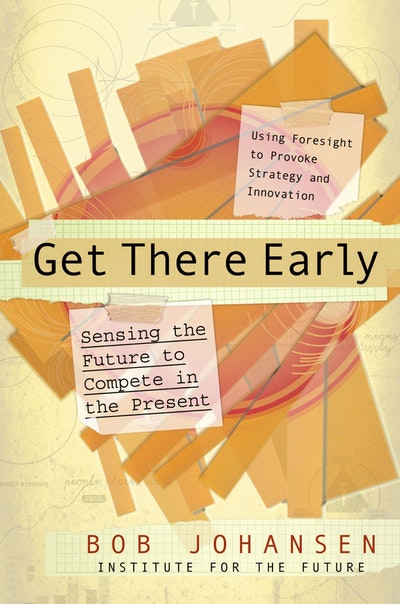 Published:

1 January 2018

ISBN:

9781576754405

Imprint:

Berrett-Koehler

Format:

Hardback

Pages:

288

RRP:

$49.99
Get There Early
---
---
It's the ultimate paradox for leaders: you can't predict the future, but you must make sense of it in order to thrive. To be successful, leaders need to sort out what's important, devise strategies based on their own point of view, and get there ahead of the crowd. But most leaders today are just concerned about getting there in time. Many are even willing to settle for getting there fashionably late. They focus on quick-fix problems, avoiding the kinds long-term of dilemmas that will characterize the future. But as Institute for the Future's ten-year forecast—which is included in the book—makes clear, today's leaders face more and more dilemmas: recurring, complex, messy, and puzzling.
Bob Johansen shares techniques refined over nearly forty years by the Institute of the Future to help you navigate your own organization's road to the future. He details real-world examples of how organizations like Procter & Gamble, Disney, Reuters, UPS, and the Centers for Disease Control have put these approaches into practice. Through fascinating and illustrative examples—including the Toyota Prius, the iPod, Crest Toothpaste, and many more—he shows that getting there early means finding new markets, new customers, and new products ahead of your competitors. It means anticipating the needs of your stakeholders. It means you'll be able to establish a position before your late-arriving competitors even have a chance to organize. It helps you think through what might happen and what should happen. It gives you time to consider alternative strategies. Ultimately, getting there early helps you see beyond the problems of the present and recognize possible futures before others do.
Get There Early lays out the Institute's three-step Foresight to Insight to Action Cycle that allows you to sense, make sense of, and win when faced with dilemmas. Johansen offers hope for leaders facing the constant tension—a dilemma in itself—between judging too soon and deciding too late.
Published:

1 January 2018

ISBN:

9781576754405

Imprint:

Berrett-Koehler

Format:

Hardback

Pages:

288

RRP:

$49.99
Praise for Get There Early
"Get there early is a completely transformative learning experience . . . An indispensable guide to success in the world of work today and tomorrow." —Ellen Galinsky, President, Families And Work Institute "Johansen does a great job of showing us how getting there early gives organizations the chance to manage the dilemmas of the future." —Tim Brown, President, IDEO "Johansen is a masterful storyteller. . . . A must-read for the leader facing the dilemma of what to do today to position for the future." —Vern D. Higberg, Vice President, Ups Corporate Strategy Group "As the ceo of a large faith-based healthcare system, i can tell you that the dilemmas we face and the challenges that present themselves grow more significant by the day. Get there early provides a unique blueprint for leaders in healthcare, non-profits, or literally any other industry to achieve success for their organizations in our vuca world." —Wayne A. Sensor, Chief Executive Officer, Alegent Health "Johansen has hit a grand slam with get there early. This stimulating volume helps leaders make sense out of the maze of dilemmas like those we constantly face in major league baseball, where we strive to improve the ballpark experience, while also dealing with the growing and ever- changing mix of electronic media delivering our product to our fans." —Chuck Armstrong, President, Seattle Mariners "Anticipating the future and effectively addressing it early is becoming an increasingly critical leadership skill in today's dilemma-filled world. In get there early, johansen provides powerful, practical guidance for recognizing and acting on leadership moments at the optimal time." —M. Carl Johnson, III, Senior Vice President & Chief Strategy Officer, Campbell Soup Company "Johansen sets out a strategic framework which leaders in any organization can use to make sense of our volatile, uncertain, complex, and ambiguous (vuca) world. Most importantly, he explains how foresight can provide the insight that permits confident action in the vuca world." —Tom Glocer, CEO, Reuters Group Plc "Using foresight to drive strategy helps non-profits to become proactive and innovative. The tools and insights in get there early are well-honed methods that nonprofits can use to spot entrepreneurial opportunities and enhance their effectiveness." —Chad P. Wick, President & CEO, Knowledgeworks Foundation "Essential reading for entrepreneurs. Johansen helps us make sense of chaotic inputs in our business lives and provides a helpful framework to think about alternative futures. After reading this book, i am excited about framing the dilemmas my young company is facing today. Entre- preneurs are all about 'getting there early.'" —Cora Tellez, CEO, Sterling HAS "In our dilemma-laden world, johansen challenges leaders to be sense- makers, not just problem-solvers. Get there early is must reading for anyone committed to leading and winning in a context of uncertainty." —Jean Mcclung Halloran, Senior Vice President, Human Resources, Agilent Technologies "Johansen addresses the key leadership challenge of our times—how to create a clear strategic vision for our organizations in an environment of bewildering change and complexity . . . I love his definition of strategic leadership as 'what happens in the space between judging too soon and deciding too late.'" —Willie Pietersen, Professor, The Practice Of Management, Columbia Business School "Get there early gives education, business, and government leaders an urgently needed handbook to gain foresight to lead to insights and action to leverage our most important natural resource: our students' minds." —Milton Chen, PHD, Executive Director, The George Lucas Educational Foundation "It was the poet Rilke who once wrote that 'the future enters into us, in order to transform itself in us, long before it happens.' Johansen teaches us to recognize that future in our businesses and manage towards it long before it happens." —Lisa M. Quiroz, Senior Vice President, Corporate Responsibility & Inclusion, Time Warner "The get there early principles can be applied in nearly every aspect of life. For me, music is a dilemma to be enjoyed, with lots of hidden structure but great freedom to improvise. A great song doesn't need to be a solution to be a success: it's a dilemma that keeps on flowing. In creating this book, johansen has created a way for leaders to engage with their challenges, much like i compose music." —Chip Davis, Composer/ President, Mannheim Steamroller, American Gramophone