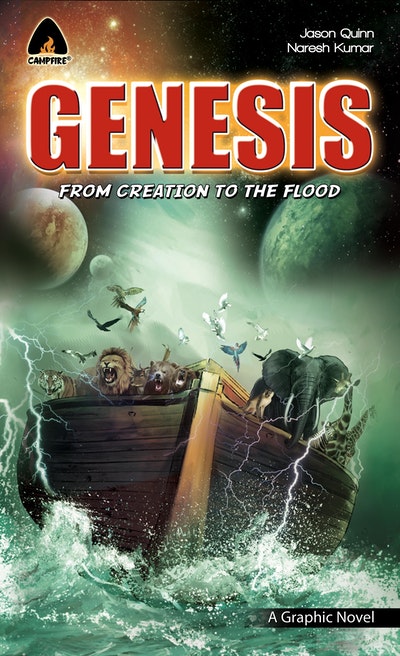 Published:

15 March 2015

ISBN:

9789381182031

Imprint:

Steerforth Press

Format:

Trade Paperback

Pages:

80

RRP:

$24.99
Genesis
From Creation to the Flood
---
---
"Let there be light!"The greatest story ever told begins with Genesis. Witness the Biblical creation of the world, the tempting of Adam and Eve in the Garden of Eden, and the tragic story of Cain and Abel, before joining Noah and the animals on the voyage of a lifetime. Told in a vivid graphic format, Genesis: From Creation to the Flood, is the perfect introduction to the Old Testament. Experience life in the Garden of Eden and life on board the Arc as Noah, his family, and the animals embark on a voyage that will end in a new beginning for life on Earth.
Series Overview: Campfire produces six distinctive subseries:
Classics - adaptations of Western literature classics.
Mythology - mythological tales from around the world, including Greece, India and Egypt.
Heroes (Biography) - the lives of exceptional personalities from history, recounted in a story-like fashion.
Histories - bring history to life in volumes that are as at home in a classrom or under the covers with a flashlight.
Originals - imaginative new characters and intriguing plots combine to create highly anticipated titles.
Campfire Junior - graphic novels for readers who are just starting out.
Genesis is the first non-subseries title released by Campfire. Contributor Bio(s)
Published:

15 March 2015

ISBN:

9789381182031

Imprint:

Steerforth Press

Format:

Trade Paperback

Pages:

80

RRP:

$24.99