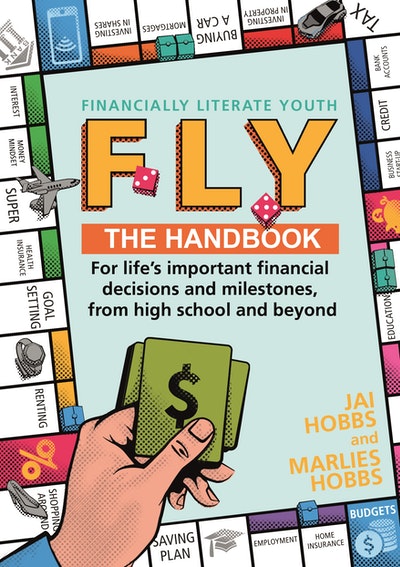 Published:

5 January 2021

ISBN:

9781761041341

Imprint:

Penguin

Format:

Trade Paperback

Pages:

336

RRP:

$29.99
FLY: Financially Literate Youth
Your go-to reference guide for life's important financial decisions and milestones, from high school and beyond
---
---
---
Your go-to reference guide for life's important financial decisions and milestones, from high school and beyond.
FLY: Financially Literate Youth is the perfect handbook for every young person who wants to be armed with the financial knowledge and confidence to set themselves up for success as they chart the course of their life. Whether they are contemplating leaving the nest or are already beginning to spread their wings, this convenient and credible resource will have them prepared for all of life's milestones, as well as those times when things get rocky or uncertain. And what an uncertain world they're flying into – but with the right guidance they'll be prepared to overcome any obstacle and seize every opportunity!
From the basics of opening a bank account, living within a budget and understanding debt to saving for those first big-ticket items, starting a job or striking out into the property market, FLY: Financially Literate Youth is the go-to reference guide for every situation life throws up. It also includes an inspirational chapter on mindset and goal-setting, finishing with the Top Ten Tips You Need to Succeed, including, 'Find Your Tribe', 'If You Don't Know, Ask', 'Be Patient, Be Opportunistic' and, of course, 'Spread Your Wings and FLY!'
Published:

5 January 2021

ISBN:

9781761041341

Imprint:

Penguin

Format:

Trade Paperback

Pages:

336

RRP:

$29.99
Video
Article
The 50/30/20 rule
In Financially Literate Youth, Marlies and Jai Hobbs offer practical advice for managing your finances.
Article