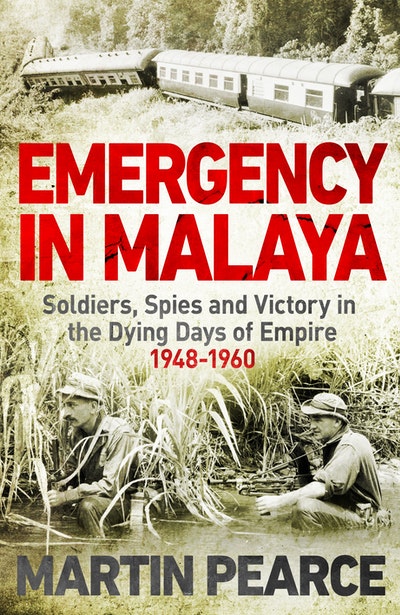 Published:

25 February 2021

ISBN:

9781473552906

Imprint:

Transworld Digital

Format:

EBook

Pages:

352
Emergency in Malaya
Soldiers, Spies and Victory in the Dying Days of Empire, 1948-1960
---
---
---
The extraordinary true story of the Malayan Emergency, Britain's Cold War conflict against communist guerrilla forces in the jungles of Malaya, from 1948 to 1960.
The story of the Malayan Emergency remains a relatively unknown yet fascinating part of twentieth-century history. It represents the last real military victory led by Britain in the dying years of the British Empire - and its political aspects still resonate in the world today. From the inauspicious circumstances of 1948, when communist revolutionaries tried to leap into the vacuum left by the Japanese vacating Malaya at the end of the Second World War, and to overthrow the complacent vestiges of British colonial rule, the Emergency led to years of bloodshed, political uncertainty and turmoil in the stifling humidity of the Far Eastern jungles.
What emerged, eventually, was a triumph for pragmatism, policing, secret intelligence and military prowess combining in what is often cited as an exemplar of how to wage war against guerrilla forces. Yet for all that the success has been hailed, allegations of torture and other war crimes by the British have tarnished the achievements.
Emergency in Malaya tells this complex story in a readable, engaging style, and will set the conflict in its full military, political and social context. Drawing on archive material and the first-hand accounts of people who served in the Emergency, this is an accessible and comprehensive single-volume survey of this last great colonial war.
Published:

25 February 2021

ISBN:

9781473552906

Imprint:

Transworld Digital

Format:

EBook

Pages:

352