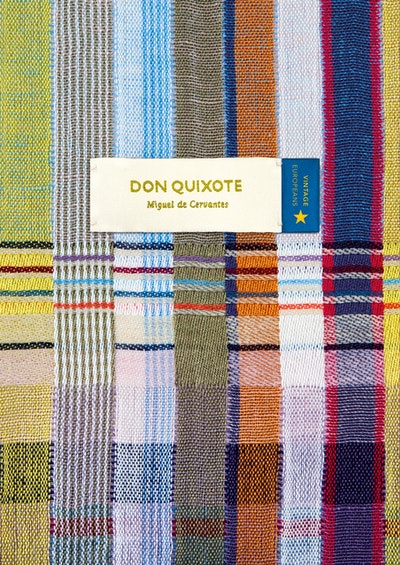 Published:

8 January 2019

ISBN:

9781784875008

Imprint:

Vintage Classics

Format:

Paperback

Pages:

992

RRP:

$22.99
Don Quixote (Vintage Classic Europeans Series)
---
---
Following the success of the Vintage Classics Russians series, these are equally gorgeous editions of must-have European classics
The Vintage Classics Europeans series - with covers provided by textile design firm Wallace Sewell, these are must-have editions of European masterpieces, celebrating the warp and weft of a shared literary treasury.
TRANSLATED FROM THE SPANISH BY EDITH GROSSMAN
Widely regarded as the world's first modern novel, and one of the funniest and most tragic books ever written, Don Quixote chronicles the adventures of a noble knight and his faithful squire as they travel through sixteenth-century Spain. Except the knight is not really a knight, his princesses are servant girls, his enchanted castles are inns and his giants are windmills. Don Quixote's goodness is real however, and his wish for the world to be full of adventures and passion is so profoundly human that, four hundred years after its first appearance, his story still crackles, beguiles and inspires.
'If there is one novel you should read before you die, it is Don Quixote' Ben Okri
Published:

8 January 2019

ISBN:

9781784875008

Imprint:

Vintage Classics

Format:

Paperback

Pages:

992

RRP:

$22.99
Praise for Don Quixote (Vintage Classic Europeans Series)
What a unique monument is this book! How its creative genius, critical, free, and human, soars above its age!
Indisputably the definitive translation
Cervantes is the founder of the Modern Era. The novelist need answer to no one but Cervantes. Don Quixote is practically unthinkable as a living being, and yet, in our memory, what character is more alive?
Don Quixote begins as a province, turns into Spain, and ends as a universe. . . . The true spell of Cervantes is that he is a natural magician in pure story-telling
This new translation of the Spanish classic is a marvel... It is impossible not to approve of this book in every respect...I find it impossible to imagine that a better novel will be published this year
A fluent translation...it has energy and clarity and the rhythm of the telling is compelling