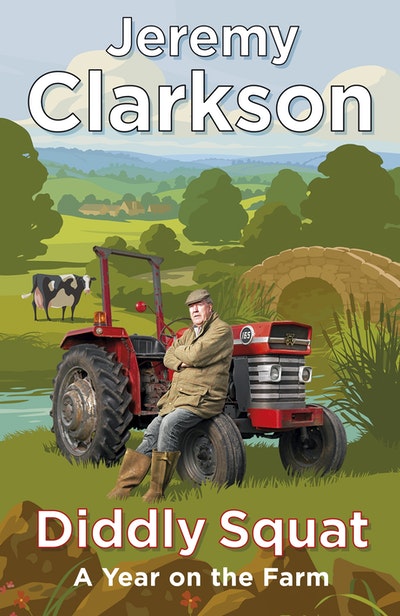 Published:

16 November 2021

ISBN:

9780241464519

Imprint:

Michael Joseph

Format:

Trade Paperback

Pages:

224

RRP:

$35.00
Diddly Squat
A Year on the Farm
Extract
INTRODUCTION
For more than twenty years I have written about cars in the Sunday Times. And then along came the bat flu, which meant the car-makers were forced to shut down their demonstration fleets. Which, in turn, meant that I had nothing to review.
Of course, I could have put my feet up, and instead of writing a car column every week, I could have written nothing at all. But I like writing. It's what I do to relax. Some people enjoy playing golf or doing the downward dog or walking up hills. I like sitting at my laptop, dreaming up similes and metaphors. So, I asked my editor if it would be all right to write about farming instead. And he said yes, and now, what we've done is put all those columns in a book.
It's strange. When I write about cars, I sort of know what I'm talking about. I know what understeer is and what a carburettor does. But I didn't know anything about farming. Literally nothing at all. Here I was then, the Sunday Times farming expert, and I could not tell barley from wheat, let alone how you made them grow. Nor did I know what rape was used for.
I certainly didn't understand any of the buttons on my tractor, and when I was told I'd need somewhere to store my grain, I didn't know whether I'd need a bucket, or a bath. It turned out I'd need a barn, and a big one at that.
All I could do then, is take you, the reader, on my voyage of discovery. And what a voyage it's been.
Since I began, I've learned that it is completely impossible to attach anything to my tractor and that the weather will always do something you weren't expecting, and don't want. I also learned that whatever you plan on doing with your day on the farm you will invariably end up doing something else, that sheep are an expensive nuisance, that wasabi isn't commonly grown in the UK for a reason, and that the government is endlessly annoying.
Most of all, though, I have learned that it is a great life. Being on my tractor when the sun is going down, watching the hares and the deer and the songbirds, is something I never knew I'd find so utterly joyful. And then stopping, briefly, at lunchtime to eat a sandwich made from my wheat and my lamb, and washing it down with my apple juice: well, it sure as hell beats watching James May organize his tool kit.
This morning, I have to top my hay and then, tomorrow, I'll be starting my second harvest, which means I probably won't get much of a chance to drive the Porsche GT3­ that's sitting in the farm yard, waiting to be reviewed. Still, not the end of the world, eh?
SPRING – MAY
Mowing my meadow with a Lamborghini tractor.
Back in 2008, I bought a thousand-acre spread in Oxfordshire and employed a local man to do the farmering. But last year he decided to retire, so I thought I'd take over myself. Many people were surprised by this, as to be a farmer you need to be a vet, an untangler of red tape, an agronomist, a mechanic, an entrepreneur, a gambler, a weather forecaster, a salesman, a labourer and an accountant. And I am none of those things.
My bosses at Amazon were so surprised, they commissioned an eight-part show that would enable viewers to enjoy the 'hilarious consequences' of my attempts to manage the woods and the meadows and the fields full of wheat and barley and oilseed rape. I'd called the farm Diddly Squat because that's what it makes.
Still, I was confident I'd manage. Man has been farming for 12,000 years, so I figured it must be in our DNA by now. You put seeds in the ground, weather happens and food grows. Easy.
Unfortunately I could not have picked a worse year to begin. We had the wettest planting season on record. It started raining in October and did not stop for seven weeks. Then there was the uncertainty about Brexit. And then, just as the sun came out, everyone was told to go indoors and stay there, possibly for ever.
This has had a catastrophic effect on prices. When I first began delivering my 140 lambs a couple of weeks ago, they were worth £100 each. Now that's down to £30. Spring barley, meanwhile? It'll be hardly worth harvesting, thanks partly to a weather- driven glut and partly to the fact that barley makes beer. And all the pubs are shut.
Despite the problems, however, I'm sitting here on a lovely spring day and, apart from 10 acres of oilseed rape eaten by flea beetles, everything seems to be growing quite well. And only three lambs have died. And as there's so much to do, I'm not wandering around the house, glugging wine from the bottle and watching reruns of Cash in the Attic. I'm a key worker.
And better yet, I still have something to write about, here in the motoring section of your newspaper – my tractor.
I could have bought a Fendt. Everyone says they're the best. Or I could have bought a Fastrac, because I'm friends with the JCB family. But obviously I wanted a Lamborghini. So that's what I've got. An R8 270 DCR, to be precise.­
Lamborghini was a tractor-maker long before it made cars, but the business was sold – along with the rights to the name – in 1973. Today they're made in Germany but they still look Lambo-mad. If an Aventador were to make love to a spaceship, this is what you'd end up with.
It's huge. Even the front tyres are taller than me. You have to climb up a four-rung ladder to reach the door handle and then you climb up some more to get into the cab, and then up again to get into the seat. It's so vast, in fact, that it wouldn't fit into my barn. I therefore had to build a new one. Every single farmer type who's seen it says the same thing. 'That,' they intone with a rural tug on the flat cap, 'is too big.' But in my mind tractors are like penises. They cannot be too big.
Yet the farmers are quite right. It is too big. Not only will it not fit into my barn, it won't fit through the gate on to my driveway. So I've had to build a new driveway. It is also too powerful. The straight-six turbocharged diesel produces only 270 horsepower, which, in car terms, is Golf GTI territory, but there are 775 torques. This means that when you attach a piece of equipment to its rear end, it is immediately ripped to shreds.
Not that I can attach anything to its rear end. It's all heavy engineering back there and I just know that if I tried, you'd be reading about yet another farmer walking for four miles across his fields with his severed arm in a bag. To put cultivators and rollers and drills on the back, I've therefore had to employ a man called Kaleb. Who also says my tractor's too big. He reckons his CLAAS is
better. We argue about this a lot.
I concede the Lamborghini is a bit complicated. You start it and there's an almighty roar from the vertical smokestack, which is a full 7ins in diameter. And then you put it in gear. And then you put it in gear with the other gear lever, and then you let the clutch in, before you realize you haven't selected forward from the other gear lever. To change gear on the move, though, you use a fourth gear lever.
There are, I'm told, forty-eight gears forward and reverse. Happily, there are only two brake pedals and two throttles. But I did count 164 buttons before I opened the arm rest and found 24 more. None of them is labelled, which is a worry as all of them are designed to engage stuff that will tear off one of my arms.
Eventually, though, it all began to move and I discovered something unusual. The tractor has suspension and so does the seat, but they are designed to operate independently, so when the tractor is going up, the seat is always coming down. This means you alternate between severe spinal compression and a banged head. I clung so desperately to the steering wheel that after just three minutes it came off. Literally, off.
I've never been terrified at 25mph before, but in that tractor I really was. Since then, I've driven it very slowly . . . into six gates, a hedge, a telegraph pole, another tractor and a shipping container. I think I'm right in saying that I have not completed a single job without having at least one crash. Doing a three-point turn at the end of a cultivating run? I'm bad at that. I always go through the fence.
I'm also very bad at 'drilling'. This is the word we farmer types use for 'planting'. Mainly this is because, to do it properly, you must install the type of computer that Nasa uses for calculating re-entry angles. That's another aspect of farming I can't do: computer programming. Which is why some of my tramlines are 10ft apart and some are in Yorkshire.
However, despite all this, when I'm trundling along and the air-conditioning is on and there's a constant dribble of socialism coming from Radio 4, I confess I start to understand why Forrest Gump was happy, after all his adventures, to end up on a tractor mowing the school football field. I'm especially happy when the engine is under load, because the stupendous noise coming from that exhaust pipe drowns out Marcus Brigstocke.
And when I finish a field and I climb down the ladder and sit on a fence I've just broken to enjoy a bottle of beer and a chicken sandwich, I can look back at the work I've done and feel a tiny bit proud. It's not nursing or doctoring, I understand that, but growing bread and beer and vegetable oil is somehow a damn sight more rewarding than driving round corners while shouting.
As I am not able to write columns about cars until this virus issue is solved, I shall be bringing you more news from the farm each week.
Cost of tractor, second-hand from Germany: £40,000
Cost of barn to put it in: £28,000
Cost of driveway it can actually use: £23,000
Cost of man to fit things to it every morning: His business, not yours
Cost of repairing the damage I've done so far: £215,000,000
But it does run on red diesel.
---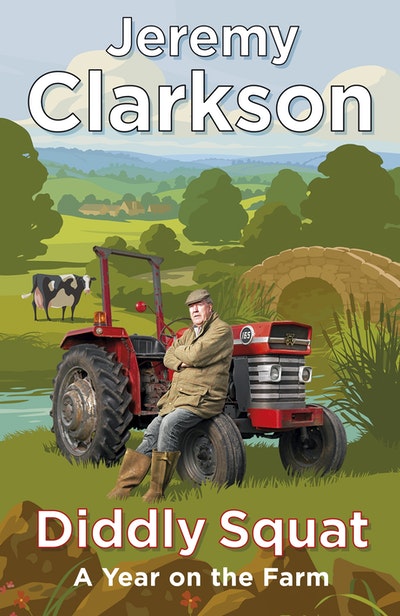 Jeremy Clarkson takes us into the pitfalls (and pratfalls) of his new life as gentleman farmer in this thigh-slapping collection of stories from lockdown on Clarkson's Farm
Buy now
Buy now
---