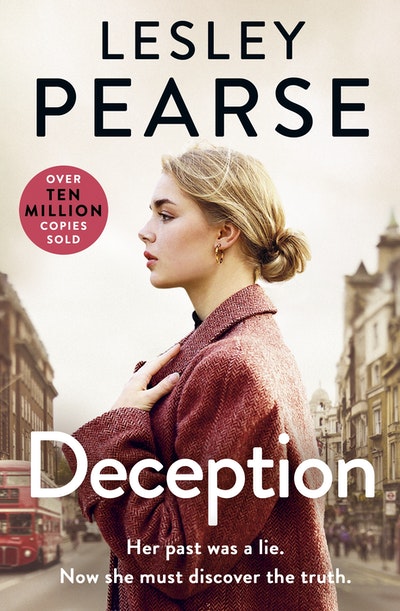 Published:

5 July 2022

ISBN:

9780241544945

Imprint:

Michael Joseph

Format:

Trade Paperback

Pages:

400

RRP:

$32.99
Deception
Extract
Spring 2015
Alice Kent turned up the volume on her car radio as Eric Clapton, playing her favourite number, 'Layla', came on.
She was speeding down from Bristol to her mother's funeral in Totnes and she was late, delayed by wafflers at the meeting this morning. Now she'd have to go straight to the church in Dartington instead of meeting up with her family first. As that would give her enough time not to be late for the service, she relaxed a little and sang along with Eric.
Her mother, Sally Kent, had died of cancer ten days earlier. Alice had taken leave from work so she could nurse her mother for her last weeks and, sad as it was for her mother to die relatively young at seventy-five, Alice knew she was glad to go.
'I've had a good life,' she said one morning, as Alice was brushing her hair. 'A wonderful husband, the two best daughters any mother would want, and three grandchildren. But it's time for me to go now, Alice. I don't like being in pain, or people taking care of me. I just want peace.'
As much as she was going to miss her mother, and she felt as if her heart was being pulled out, Alice understood it was for the best. She knew it had been agony for her once ebullient, active mother to lie in bed, and know she was never going to get any better. She just hoped her sister, Emily, and her father, Ralph, could see it that way.
Alice was thirty-five, tall, slender and dark-haired. She always thought of herself as single, rather than divorced: her marriage at twenty-one had been a travesty she didn't care to dwell on. Friends always remarked on her being so capable, and while she knew that was true, that she could handle anything thrown at her, she wasn't sure she wanted to be described as such. To her it suggested plodding, dull and unimaginative.
Now and again she analysed herself. Was her inability to fall head over heels in love an indication of dullness? There had been several lengthy relationships since she'd left her husband, but not once had she ever felt she could die for a man. Now she'd come to the conclusion she wasn't cut out for permanence, which was perhaps just as well as she could never say when exactly she'd be home.
She loved her small flat in Bristol's Clifton village, and she had many friends of both sexes. Mostly she felt she had everything a girl could want. But deep down she still hoped for the love affair that would turn her life upside-down.
As she came off the A38 at the Dartington and Totnes turn-off, she glanced into her mirror. There, almost hanging on to her bumper, she saw a black Jaguar with a male driver.
When people tailgated her she always wished she had a pop-up neon sign in the back window, saying, 'Get back, arsehole', to flash at them.
She slowed down, pulling as far to the left as she could to let him pass her. The road ahead soon became narrow and winding with many overhanging trees, and she wanted him gone instead of annoying her for the rest of the journey to the church. But he didn't pass her: he stayed right on her tail.
As she approached St Mary's she realized she had at least fifteen minutes before she needed to be there, so she drove on past, into Dartington, negotiated a roundabout at speed and pulled up on the forecourt of a shop.
Looking behind, she saw she'd lost him. He must have gone straight on into Totnes.
Rather pleased with herself, she drove slowly back to the church. The sun had come out on the drive down from Bristol, and it had been good to see lambs in the fields and primroses on some of the grass verges. It had seemed a very long winter, made worse by the knowledge that her mother was dying. But it was good that the sun chose to shine today, bringing back memories of Sunday school at St Mary's with Emily, the Christmas and Easter services with their parents.
In the last two years her mother and father had started to attend church every Sunday. She and Emily had wondered why ‒ they had never seemed particularly religious before. Maybe it was because of the cancer: perhaps their mum had hoped that having a word with the Almighty each week would help.
There were at least twenty vehicles in the car park already, and a few people smiled at her, but Alice didn't stop to speak to anyone. She went straight up to the church to await the hearse and her family. Standing in the spring sunshine, looking out across fields, she felt at peace for the first time in weeks. She knew that the service, the hymns and the vicar speaking of her mother would make her cry, and it would be hard to watch her father and Emily grieving too, but she was focusing on her mother's last request: 'Be glad for me that it's almost over, Alice. I've had my life. Get on with your own now, and tell Ralph and Emily to do the same.'
The hearse approached, and the remaining people outside the church scuttled inside. The doors of the second car opened and her family spilled out.
Dad looked teary-eyed, as did Emily, whose three children, Ruby, Jasmine and Toby, bounded up to Alice.
'We were worried about you,' Ruby said. Alice and Emily had recently nicknamed her Miss Sensible: although she was only ten she was motherly and very bossy.
'I was afraid if I came out to the house, you might have left already,' Alice said, taking the hands of Ruby and Jasmine to get them to follow the pall bearers into the church. She kissed her father, and left Mike, her brother-in-law, to go in with him, Toby and Emily.
The service was sad, but at the same time uplifting. Some of Sally's friends had decorated the church with an abundance of flowers, and it looked so pretty with sunlight streaming through the stained-glass windows. Each of the pew ends had a posy of spring flowers pinned to it, more like a wedding than a funeral.
The Reverend Henry Dawes had known Sally well and managed to bring a little humour into his eulogy by speaking of Sally's enthusiasm for jumble sales. He reminded them of when she'd put on an old lady's pink corset over her clothes, and a fancy but battered hat, then kept them on for the whole day.
Sally had chosen a poem to be read, and asked that Mike read it, as she knew that neither Ralph nor Alice nor Emily would get through it without crying. It began:
Weep not for me though I have gone.
Grieve if you will, but not for long.
It was typical of their mother that she wanted them to celebrate her life rather than mourn. In fact, in the past she'd often joked that she wanted Queen's 'Killer Queen' played at her funeral. They'd laughed with her about it, but once they were planning the service it didn't seem right.
Alice glanced sideways at her father several times, but though his lower lip quivered, he was holding it together, as was Emily. The interment would be the testing time. Alice didn't like the idea of burials, but her mother had been saying for years that that was what she wanted, so it had to be done. Alice and Emily had dressed her themselves in the coral-Coloured kaftan Sally had loved, and fixed two glittery hair slides in her platinum-blonde wig. Both daughters had wanted to keep her wig, but they knew that Sally would have been furious if they didn't put it on her, with full makeup and nail varnish that matched the kaftan. As she would have said, 'One has to keep up standards.'
She had looked beautiful in her simple white coffin but, then, she'd been a beauty as a young woman. Even age and cancer couldn't destroy that.
The interment was more painful than the service. Alice was all too aware of the horror on the grandchildren's faces when they saw the deep hole in the ground and realized that was where their beloved granny was bound.
For Alice it was the finality that was shocking. She'd never hear her mum's pealing laugh again, never feel the warmth of her hugs. They hadn't seen eye to eye very often ‒ in fact they'd had some terrible rows ‒ but they had loved one another.
It was only once the roses had been dropped into the grave, the last prayer said and people had started to move away that Alice noticed the tall, thin man with a deep tan. She knew instinctively he was the driver of the Jaguar earlier, although she'd only seen him in her rear-view mirror.
He was looking right at her too, and she nudged Emily to ask if she knew who he was.
'I've never seen him before,' Emily whispered back. 'But Mum knew all kinds of odd bods ‒ she never gave up on flirting.'
Alice smiled. It was quite true: Sally had been a flirt, and could persuade men to do anything for her, from checking the tyre pressures on her car to carrying her shopping. She once said she couldn't understand why any woman would want to work for a living when she could marry a man who would keep her at home in style.
Alice was the regional manager of a group of hotels and worked long hours. She had immense responsibility but she rarely got any acknowledgement for all she did. Her male counterparts, however, were treated as if they could walk on water. Sometimes it even crossed her mind that a life like her mother's, just being the little woman at home, able to go out for girly lunches and shopping trips when she fancied them, might be very pleasant.
'Dad, do you know who that dark, thin man is?' she asked, nodding towards the man. 'He was driving right on my tail earlier today.'
'Never seen him before. Just one of your mother's admirers, I expect,' he said, with a faint smile. 'Go and ask him, Alice. You're allowed to do that at funerals, and if he is an admirer you'd better ask him back to the house.'
Alice approached the man. 'Hello . . . I wondered where you fitted into my mum's life.'
'We were friends years ago,' he said. 'I was down here on business last week and saw the obituary in the local paper. I just wanted to pay my respects and perhaps have a chat with you and your sister.'
'Come along to the house, then,' she said. 'We'd love to talk to you about our mum.'
'I feel that would be an imposition,' he said. 'But could you both meet me for lunch tomorrow at the Seven Stars?'
Alice took that to mean he was an old flame, and was being respectful to her father. 'I can come,' she said. 'I'm not sure Emily can, though. She has three children. What time?'
'Would one thirty be okay?'
'Fine, I'll see you there. I must go now, though. My father needs me.'
'How odd,' Emily remarked. They had been back at the house for nearly two hours and between pouring drinks, passing round food and chatting to people, Alice hadn't had a moment until now to tell her sister about the man in the churchyard.
'I forgot to ask his name,' Alice admitted. 'But do come, Em. I'm dying to know how he fits into Mum's past.'
'I can't. I've got loads of stuff to do, though I'm really intrigued. I was only thinking just now that there isn't one person here today from before her marriage to Dad. When I went through her address book to inform people, there wasn't anyone I didn't know ‒ or, at least, no one I hadn't heard Mum mention.'
Alice frowned. Now she came to think of it, their mother had never talked about her life before she'd met their father. She would have been well over thirty when she married him ‒ how odd she didn't mention those earlier years.
---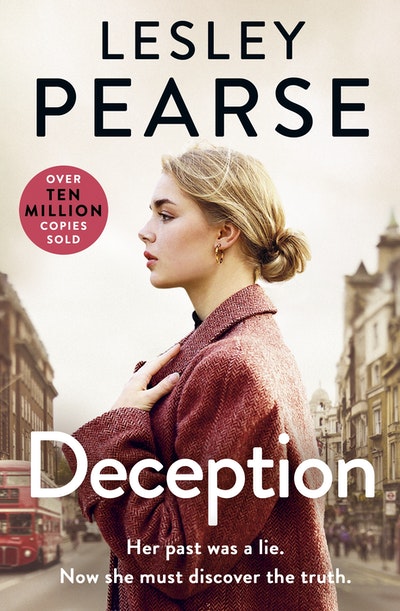 The enthralling new novel from the 10-million-copy, No. 1 bestselling author
Buy now
Buy now
---