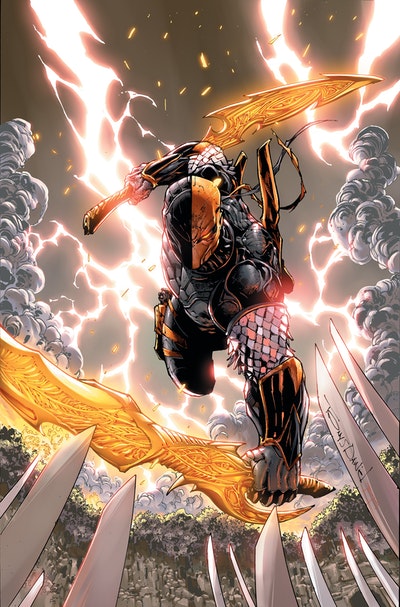 Published:

30 October 2018

ISBN:

9781401284756

Imprint:

DC Comics

Format:

Hardback

Pages:

560

RRP:

$130.00
Deathstroke: The New 52 Omnibus
---
---
The DCU's deadliest assassin starred in his own ongoing series by writer and artist Tony S. Daniel. See him as never before in this explosive, classic series, with one surprise after another as we see Slade Wilson in the fight of his life in Deathstroke: The New 52 Omnibus.
The DCU's deadliest assassin has no fear as he picks fights with DC's most dangerous and most powerful beings in this hardcover collection.
Deathstroke finds himself fighting Gotham's very own Dark Knight, Batman, but Harley Quinn invites herself to the party. Just as he catches his breath, Deathstroke must face an opponent he prayed would never reappear in his life! If you think Slade Wilson is bad, wait till you see his father! Included is the famous "God Killer" arc where Slade is armed by Hephaestus to take down one of the Olympian gods! So get ready for divine brutality when Slade's contract on the gods sends him smashing into combat against the one and only Wonder Woman!
Then, it's the Suicide Squad vs. Deathstroke! He's battled gods, slain his enemies and even sacrificed parts of himself he never thought he could live without! But Deathstroke's biggest challenge still lies ahead, and if he wants to succeed he'll need to defeat the assembled might of the Suicide Squad!
Collects Deathstroke #1-20, Annual #1-2 and Sneak Peek #1.
Published:

30 October 2018

ISBN:

9781401284756

Imprint:

DC Comics

Format:

Hardback

Pages:

560

RRP:

$130.00