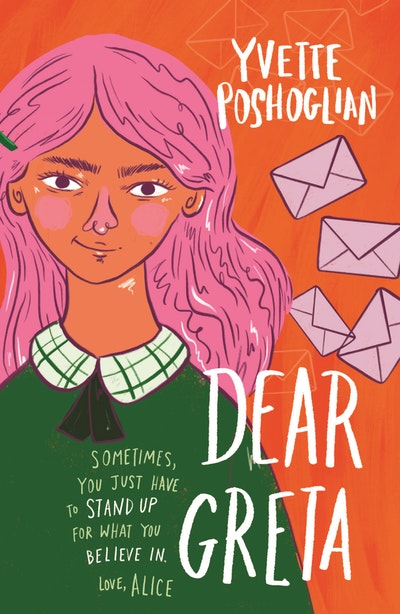 Published:

1 March 2022

ISBN:

9781761043789

Imprint:

Puffin

Format:

Paperback

Pages:

288

RRP:

$16.99
Dear Greta
Extract
SAVE FILE TAB 1
Alice Boghosian
Class 6O – Library writing project
Thursday 28 January 2021
Dear Ms Greta Thunberg, Sweden
Dear Greta Thunberg,
Dear Greta,
I'm going to call you Greta because this whole 'write to your hero' project that Mrs Malouf, our school librarian, has given us feels like something kids would have done in the olden days – who writes letters any more? Does anyone read them? We're both teenagers – well, technically, you're a teenager and I'm going to be a teenager soon – so it seems silly to write to you in such an old-fashioned way.
At least Mrs Malouf's finally agreed to turn this writing assignment into emails . . .
I hope it's okay that I call you Greta. Calling you Ms Thunberg (which Mrs Malouf recommended) doesn't seem right.
I didn't get to choose you, Greta, and I'm not saying you're not a hero of mine – it's just that I don't know enough about you to call you a hero. And don't take this the wrong way, but, on my hero list, I'm not sure that you'd be in the Top 3. My Top 3 actually looks like this:
Queenie Q – the social media queen who is only 14 and has 22 million followers and posts pictures of her puppy dressed up in costumes
Maddy Proud – captain of my favourite netball team, the Sydney Swifts
Taylor Swift – because she's Taylor Swift, okay?
I'm willing to do the research on you, though, Greta, so stand by.
This all happened because Jayden Tutai ran into me and spilled his chocolate milk all over my school dress. Now, I'm wearing a scratchy old uniform from the seconds rack in the Uniform
Shop that smells like mothballs and hangs past my knees. I've been forced to sit next to Jayden and I've been forced to write to you, the only hero left in the basket that Mrs Malouf had put all the heroes' names into.
Jayden is stressing out next to me, and he got his actual hero – James Tamou. I can see out of the corner of my eye that he's stuck on Dear Mr Tamou. His face is all scrunched up, and he looks like he might actually be sick. Surely he can think of something to say to the captain of his favourite footy team, the Tigers, who he never shuts up about. Even I know enough about NRL to write a couple of sentences – my parents have been taking us to Tigers matches for years in the hope that they win another premiership.
'Isn't it wonderful that you got Greta to write to?' Mrs Malouf smiles at me with glee. Suddenly, she's hovering at my side.
I think it's cruel to give assignments on the first day of school. But I say, 'I guess.'
'Hmmm,' she says, sniffing. 'Do I detect . . . mothballs?' She's looking at me, quizzically.
Jayden coughs, trying to cover a laugh, so I shove him in the ribs with my elbow.
'It's a long story,' I say, and sigh dramatically, throwing Jayden a death stare.
'I'm sorry, Bogus,' he says. 'I mean, Mothballs.' As if it's not bad enough that I had one horrible nickname, it seems I now have two. I've been trying to dodge my nickname for years. It's not my fault that Boghosian kind of sounds like Bogus. To some people (not me).
Kind regards (Mrs Malouf suggested that I write that to say goodbye),
Alice Boghosian
Melwood Public School
Australia
PS – I know we're supposed to just save these files in our portfolio folder, but what's the point of writing letters or emails if you don't actually send them to someone? I think I've tracked down your email address, Greta, and copied my 'letter' into an email. This is coming your way.
---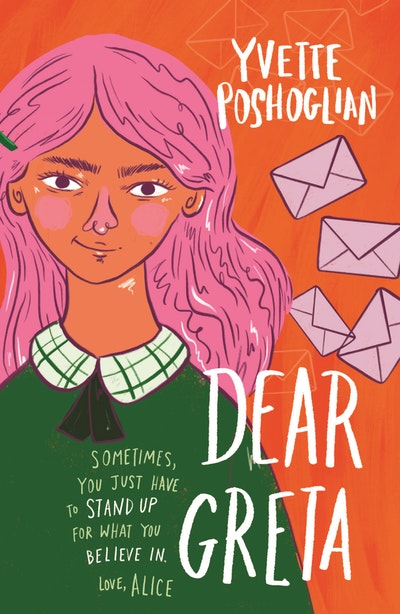 When everything seems to be going wrong, sometimes you just have to stand up for what you believe in, even if it's just in your own little corner of the world ...
Buy now
Buy now
---