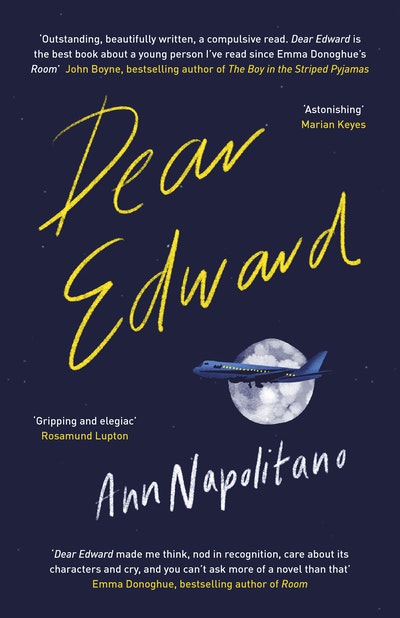 Published:

7 January 2020

ISBN:

9780241384084

Imprint:

Viking

Format:

Trade Paperback

Pages:

352

RRP:

$32.99
Dear Edward
The heart-warming New York Times bestseller
---
---
---
A heart-wrenching, life-affirming novel alternating between the story of the passengers aboard an airplane hurtling toward a deadly crash and the coming of age of the flight's only survivor, a 12-year-old boy.
One summer morning, Flight 2977 takes off from Newark Airport headed for Los Angeles. There are 216 passengers aboard: among them a Wall Street wunderkind worth $15 million; a young woman coming to terms with an unexpected pregnancy; an injured vet returning from Afghanistan; and two beleaguered parents moving across the country with their adolescent sons. When the plane suddenly crashes in a field in Colorado, the younger of these boys, 12-year-old Edward Adler, is the sole survivor.
Told in alternating points of view, Dear Edward recounts the stories of the passengers aboard that flight as it hurtles toward its fateful end, and depicts Edward's life in the crash's aftermath as he tries to make sense of the loss of his family, the strangeness of his sudden fame, and the meaning of his survival. As Edward moves through adolescence, coming of age against the backdrop of sudden tragedy, he must confront some of life's most profound questions: How do we make the most of the time we are given? For whom do we reach in life's final moments? What does it mean to live well?
Published:

7 January 2020

ISBN:

9780241384084

Imprint:

Viking

Format:

Trade Paperback

Pages:

352

RRP:

$32.99
Article
Ann Napolitano Q&A
The author of Dear Edward on the real plane crash and sole survivor who inspired her novel.