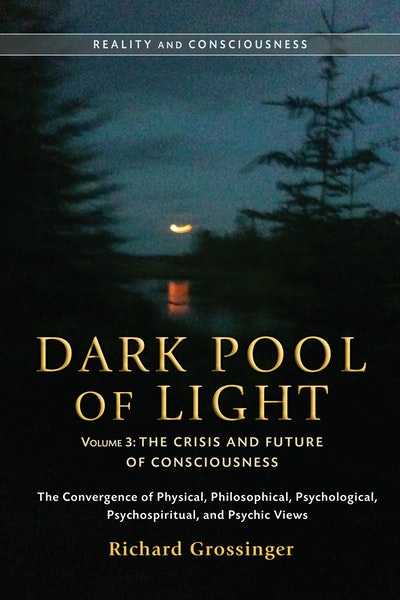 Published:

15 September 2012

ISBN:

9781583944851

Imprint:

North Atlantic

Format:

Paperback

Pages:

304

RRP:

$27.99
Dark Pool Of Light, Volume Three
---
---
In books like Embyogenesis and Embryos, Galaxies, and Sentient Beings, author Richard Grossinger brought together the subjects of biological embryology and the esoteric process of human consciousness becoming embodied ("The embryo is the universe writing itself on its own body"). In Dark Pool of Light, his three-volume series of books discussing the nature of reality and consciousness, Grossinger weaves neuroscience-based behaviorism and the phenomenology of "being" and reality together with psychological and psychospiritual views of "that single thing which is most difficult to understand or vindicate: our own existence."
In 2008, Grossinger began studying with noted psychic teacher John Friedlander, who helped him refine his vision of cerebral and somatic awareness to still-subtler levels. "Dark Pool of Light began unnamed in the journals of my psychic work with John Friedlander," says Grossinger, "not so much a record of actual practices as insights from them and extensions out of them."
This expansive inquiry into the nature of consciousness ends with this third volume in the series, The Crisis and Future of Consciousness. Grossinger addresses the perennial question of evil and shares the author's hopes and fears for the future of humanity. While wisdom gleaned from such seemingly disparate sources as science, philosophy, religion, and spirituality might appear "very, very different things," Grossinger nevertheless finds their meeting place in subjective, lived experience.
Published:

15 September 2012

ISBN:

9781583944851

Imprint:

North Atlantic

Format:

Paperback

Pages:

304

RRP:

$27.99
Praise for Dark Pool Of Light, Volume Three
"Grossinger has a great synthetic mind and is a master of poetic prose and imaginative, free-ranging scholarship."
—Michael J. Harner, author of The Way of the Shaman
 
"Richard Grossinger is one of the most original spiritual writers of our time."
—Andrew Harvey, author of Heart Yoga and The Hope