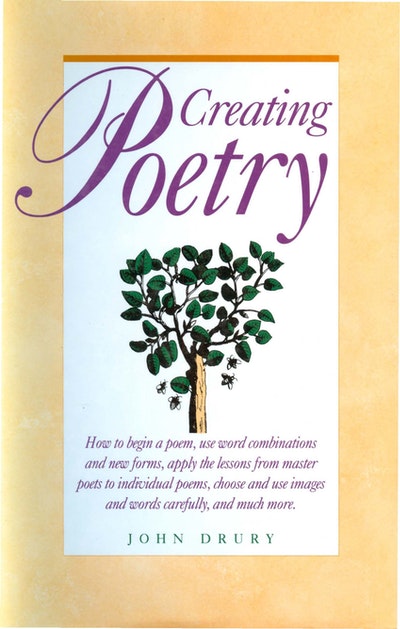 Published:

29 July 2006

ISBN:

9781582974637

Imprint:

Penguin

Format:

Paperback

Pages:

224

RRP:

$26.99
Creating Poetry
---
---
Poets can't impose their will on the muse. That's why it's so important that you write regularly, keep reworking your drafts, and experiment in your writing. This book will help you by offering advice, inspiration, and hundreds of exercises to get you going—all designed to invoke your muse.
With no bias toward any form or style, John Drury addresses imagery, metaphor, and the different methods of constructing and experimenting with new poetic forms. You'll find twelve chapters overflowing with examples, exercises, and prompts—all practical tools you can use right now in your poetry writing. For example, you'll find information on:
   • Preparing: developing your poetic sensitivity
   • Language: learning the fundamental tools of poetry and using them effectively
   • Sight: refining sight—and insight—to make your poetry come alive within the mind's eye—and the heart's eye, too
   • Sound: sensitizing yourself to the music of words—both singly and in combination
   • Movement: developing the rhythmic qualities that make poems sing—and shout, march, croon, and whisper
   • Voice: becoming aware of the fine nuances of how the words are said and connected, revealing each poem's implied speaker and "stance"
   • Finishing: bringing each poem to successful completion
No matter what your style or level of experience, Creating Poetry offers insightful, thoughtful, and motivating instruction all of which will make your path to poetry writing a richer path to travel.
Published:

29 July 2006

ISBN:

9781582974637

Imprint:

Penguin

Format:

Paperback

Pages:

224

RRP:

$26.99