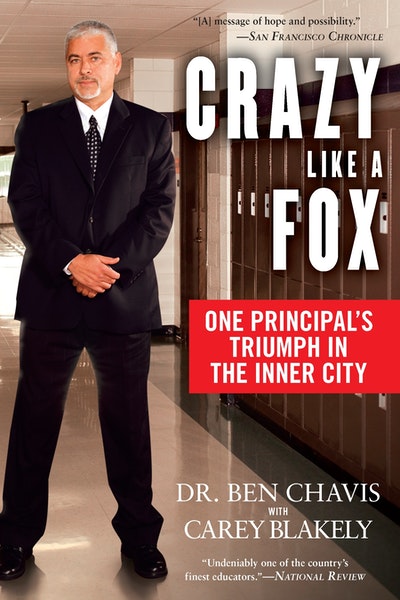 Published:

7 September 2010

ISBN:

9780451228697

Imprint:

Berkley

Format:

Paperback

Pages:

304

RRP:

$24.99
Crazy Like a Fox
One Principal's Triumph in the Inner City
---
---
The inspiring true story of "one of the country's finest educators" (National Review) and the school he changed forever.
Under the leadership of highly unorthodox principal Dr. Ben Chavis, Oakland's American Indian Public Charter School was hailed as an "education miracle" by governor Arnold Schwarzenegger after it was transformed from a failing "nuisance" into one of the best public middle schools in the nation.
This is the story of that transformation and of a man who dared to be different. With his rigorous, no-nonsense approach, Dr. Chavis debunks the myth that poor, minority, inner-city schools have little chance at academic excellence. Focusing on back-tobasics ideals, he has created a structured educational model that, combined with the enthusiasm of his students and teachers, delivers astounding results.
In Crazy Like a Fox, Dr. Chavis recounts how he did it-in his own words and through the stories of the extraordinary young people he's helped.
Published:

7 September 2010

ISBN:

9780451228697

Imprint:

Berkley

Format:

Paperback

Pages:

304

RRP:

$24.99
Praise for Crazy Like a Fox
"[Chavis] has many of the habits of some of the best educators I know - a wicked sense of humor, a weakness for shocking the conventionally wise, and a deep love of children, particularly those who have had difficult lives." -Jay Mathews, The Washington Post "Ben Chavis inspires us....His impact will ripple far beyond those who were fortunate enough to be among his students." -Michelle D. Bernard, President and CEO, Independent Women's Forum and MSNBC Political Analyst "Chavis's book succeeds in what it sets out to do: tell the story of how a 'country Indian' from the wrong side of the river grew into a fiercely determined educational leader, and how he turned a failing school into a model of excellence for the nation....Ben Chavis himself is one of a kind - passionate, intense, and brutally honest. Like a character in a high-concept Hollywood film, he unabashedly tells whomever he's speaking with exactly what's on his mind....Chavis is a cross between Socrates and Dirty Harry." -Andrew J. Coulson, City Journal