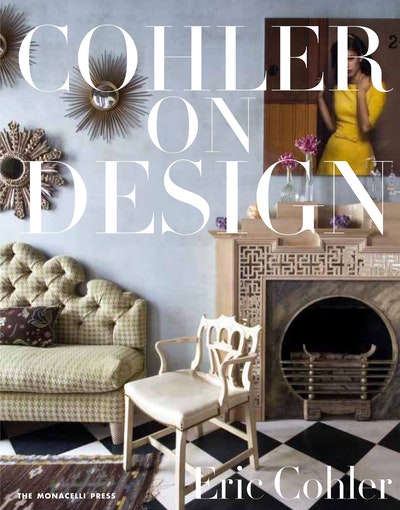 Published:

15 November 2012

ISBN:

9781580933728

Imprint:

Monacelli Press

Format:

Hardback

Pages:

224

RRP:

$85.00
Cohler On Design
---
---
Renowned interior designer Eric Cohler infuses traditional forms with the unexpected. He has been dubbed "The Mixmaster" by shelter magazine editors for his ability to seamlessly blend high-and low-end pieces to create classic spaces that are fresh and comfortable without being complicated. This volume, inspired loosely by the perennial classic Billy Baldwin Decorates, gives readers dozens of examples of well-appointed, luscious rooms while pointing out to them in a lively, engaging, and--most importantly--encouraging way tips to try at home.
Eric Cohler is able to juxtapose his extensive classical education in art and architecture with a desire to create modern spaces that transcend trend. The volume will be illustrated with 160 images of his own work, and each image of a finished room will be presented not as merely aspirational, but as a real example of a design tip or trick that readers should try at home. Approximately 50 inspirational images drawn from the work of famous interior designers of the past, works of art, fashion, and travel shots taken by Cohler himself will also be included in order to get readers thinking about the things that inspire them, and to show how including elements of these in their own homes make for the most satisfying interiors. He teaches readers to "see" and identify whether an object--of any price--has inherent value. Cohler truly seeks to create a volume that is a primer on how to live well through the power of passion.
Cohler's ability to connect with the reader stems directly from his frequent lectures to design-enthusiast audiences across the country. In November 2010, he was appointed the Ambassador of Creativity and Spirituality to the G20 summit in Seoul, South Korea, where he spoke to world leaders about the need to continue funding for the arts worldwide.
Published:

15 November 2012

ISBN:

9781580933728

Imprint:

Monacelli Press

Format:

Hardback

Pages:

224

RRP:

$85.00