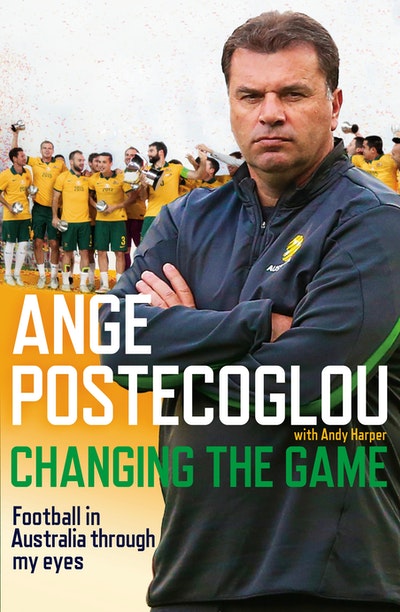 Published:

3 October 2016

ISBN:

9780143797159

Imprint:

Michael Joseph

Format:

Trade Paperback

Pages:

320

RRP:

$35.00
Changing the Game
Football in Australia Through My Eyes
Extract
Football isn't something I came to later in life. I wasn't a kid who dabbled in lots of stuff throughout school and adolescence, looking for meaning. From as early as I can remember, football has provided me with the answers I need. Football was the thing through which I made sense of life, where I created my world and my identity. I was gripped by the game's beauty. I was in awe of the game's masters and would swoon in their presence, just like all the other kids. But as I reflect, and as I now understand myself, I see that my love of football has always gone deeper than that. Football brought me closer to my father, and that was the relationship I craved. Through football and my father, in the swirling circumstances of migrant life, my life's patterns emerged.
I was born in Athens, Greece, in 1965. My dad had a pretty successful business. He came from a line of merchants and furniture makers. He used to make children's furniture, toys, cradles and that sort of thing. As far as I'm aware, it was a pretty pain-free and middle-of-the-road existence. But around 1969, as the government commenced its acquisition, or nationalisation, of land and businesses – including my parents' – the agitation to look somewhere else began. In a very short space of time, my family went from being settled to being very exposed. My father's ability to provide for his family was evaporating.
It's amazing how people react to such acute circum­stances. My uncle tells a story from an earlier time when my dad won a lottery. It wasn't a big prize but, in comparative terms, it was a significant amount. It was in my dad's nature to share the winnings around. But when the government went into repossession mode, and he was in need, none of those people were forthcoming with help. Maybe they had their own issues, I can't say. But my dad felt abandoned by those around him, by the community he'd been a part of and in which he'd felt secure. My parents were like a shag on the rock.
At one point he and my uncle upped and went to Libya to work in construction. He would go anywhere to work. Apparently there were times when he wouldn't be sure if he even had safe passage back to Greece, back to us. But he'd worry about that later. For the meantime, the money was far better than he'd get in Greece, and the family's welfare had to be secured. We were part of a remittance economy. Parents working abroad and sending earnings back home to their families. I see a lot of that sort of thing now as I travel through Asia with the Socceroos and can't help but feel empathy. As I fly into and drive by these communities, and am served in hotels by expat remittance workers, I wonder how their kids are being shaped, as I was, by that separation and transience.
My dad was an independent thinker. He would refuse the idea that he had to accept the circumstances that had befallen him simply because they had befallen him, and that was part of his drive to go work abroad. His hand may have been forced by the government, but he was willing to go anywhere to see what possibilities existed.
Emigration was one of those possibilities. When I was five years old and my sister, Elizabeth, was ten, my family was presented with two options: South Africa and Australia. My dad chose Australia, with really no idea what it was or where it was. Unlike many, we didn't have family already here. We didn't have friends here. We had no pre-existing network of anything here. He just made the decision to come to Australia. The fact that there were a lot of Greeks here, particularly in Melbourne, would have filtered through to him even in those pre-internet times, but apart from that it may as well have been Mars, for all he knew.
From the moment we arrived, he got into cabinet making and carpentry, the skills of his trade, and began piecing together a new life. Importantly he also plunged straight into the local Greek community, the largest of its kind outside of Greece itself. Really, there was no other option. None of my family spoke English. It wasn't as though we got off the boat and were funnelled into any help centres or Australia 101 classes. Folk like us landed laid bare, exposed to the elements. You made do.
We were sponsored by another Greek family. We didn't know them. It wasn't a particularly warm connection but neither was it traumatic. In our new life in Australia, that family and the Greeks of Prahran were the extent of our world. You have to be in such a situation, with no language access to the community, to really understand how debilitating it is, how dehumanising. It wasn't just a man, his wife and his kids in a restaurant where they couldn't read the menu; it was a vulnerable family, arriving in a new country to start a new life. There was no way in. No familiarity. You could only really go as far as language could take you, and that was in and around the local Greek community.
My sister started school as soon as we got to Australia. It must have been tremendously difficult and would have been a very formative experience. She was at a vulnerable age and in an environment that was too often hostile to new arrivals, and particularly those who didn't speak English. I was put into child-minding because Mum had to get working too. She did everything, although mainly she worked as a machinist. We bought a sewing machine and she was always mending or making clothes.
My dad remembers the first bed they acquired. It was soon after we arrived. He'd heard that somebody was giving away a mattress, a double-bed mattress. So he and the dad from the other family we lived with trudged off one Saturday morning to get the new bed. It was going for free so it was a must. They had an address for the pick-up but that's all. No car and no map, or at least not any Greek-language road maps. As they wove through the streets, somehow, they found the house with the bed. After clean-and-jerking the thing above their heads, they soon realised they couldn't remember how to get home. They were so focused on finding the place, they'd forgotten the route they'd taken. These two men were left walking the streets, hot, frustrated and lost, with no means of asking for directions or help, unable to take public transport, and certainly no smart phone with GPS to take them back from whence they'd come. They'd pass the same landmarks and realise they were walking in circles. It was getting dark, they were getting tired, but finally they made it home. My dad collapsed on his new bed in the entrance hall. It's a story that's stayed with me because it's a bit of a metaphor, really, of their existence at the time.
Without the support of the Greek community one wonders how we would have survived. There was no arrival kit telling us, 'Well, this is how you assimilate to life here.' It's pretty humiliating. Probably the Aussies looking on, with no appreciation of what and who these people were, would sit and judge two migrant blokes wandering through the suburbs of Melbourne with a pre-loved bed on their shoulders. Who are these blokes? Vagrants? There's no knowledge of their past or their achievements or their skill. They're just hopelessly lost, struggling like drunken sailors after a session on the rum to keep aloft a free bed.
It's not a unique story but, as I look back, it's just so far removed from the sort of life my own kids have, and even how my sister and I lived as teenagers. The early part of my life makes me shake my head; it's surreal, just totally different. It wasn't until we moved out of the two-bedroom house we shared with that other family and into our own place that we started making our own family friends, settled into some sort of routine Australian life – whatever that is or was – and started living in a way that bears any resemblance to now.
Naturally, however, having made the difficult transition to a more normal and familiar existence didn't mean that the struggles were over. Even after securing more stability, I can remember my parents sitting with their heads in their hands questioning the wisdom of their decision to leave Greece.
Mum was a bit more resilient but I know my dad struggled a lot, which is interesting because he had been the prime mover for us leaving Greece in the first place. The circumstances there made him feel that he had to look for a better life for his family. But what is a better life? What does that mean? I can ask that now, almost philosophically, although I'm sure my parents wrestled with those questions as they wrestled with the difficulties of migration. As bad as things were in Greece, Dad still had a network of friends and he still had the ability to socialise. Even surrounded by instability and with diminishing material means, he at least had familiar reference points, people and culture to sustain him. In Melbourne he could work and provide, but everything else seemed like a mad scramble, like he was walking on ball bearings. The social network here was limited. The nature of my parents' work meant that they were largely estranged from the broader Greek community so, as replenishing as it was when they had that contact, it wasn't every day. The work was constant but they were quite alone and isolated. If they needed a solution for something they had to find it themselves, without the assistance of the internet. There was plenty of frustration and many times the conversation turned to going back to Greece. I think it was in Dad's mind that ultimately that was what would happen. That was his hankering. For him the ideal life was in Greece, back when things were going well, and if he could just get over this hump in Australia and get ahead, he could go back to the comforts of Greece. Australia, for him, was missing that very important component, not just survival but enjoying life. It gnawed at him constantly.
As time went on it became clear how focused Mum had to be to keep our life in Australia going. Aware of the sacrifices and upheaval we'd experienced, retuning to Greece just didn't make sense to her. It was such an uncertain place economically and politically. She didn't become less Greek because she came to Australia, but she most certainly felt that for her kids this was a much better place than the one they'd left.
Home wasn't always a happy environment. My sister was starting to get into her teens at the same time as she was getting into the Australian way of life. The old European mentality of how a daughter should behave and with whom she should spend her time became battle­grounds. My dad's perennial state of tiredness was an additional irritant. I'd wake up in the morning and he'd already have left for work, and at night he'd come home, have dinner, and crash into that pre-owned bed. Intermittently he'd raise an eye, and sometimes his voice, to challenge my sister. It was very wearing for all of us.
My mum was constantly counting the pennies to make sure everything was paid and up to date. Part of me was oblivious to what was going on but, equally, my recollection is clear enough to know that unease was our constant bedfellow. It was always pretty tense. But I'd be outside playing, or insulating myself in some other way from the lack of peace.
By the time I was seven or eight, and we'd been in the country for a couple of years, I remember football starting to take centrestage in my life. Football was really the only thing that relaxed my father, and time in its company was precious for him. Maybe it was because at the football he was surrounded by people who had the same sort of issues, the same dilemmas, all of them just there to enjoy the game and get a weekly release from the ordeal of being a stranger in a strange land. Eating and speaking Greek, the shared experiences of migration, a common language to give expression to those frustrations – one can imagine how powerful an analgesic that was. Being able to find a public toilet, or at least asking for directions to one in your mother tongue was, in fact, an enlivening experience.
The football provided a two-hour block every Sunday where all those daily impediments were gone. The things that should be simple in life, but were complicated in Australia, fell into place at the football. To me, even getting into the car and driving to the ground, my father seemed different. It was only a few hours a week, but before and after a game the atmosphere at home would change. The anticipation he was feeling lifted the pall from all of us. It was like we could breathe. You can imagine how important that became.
My dad loved the game of football as well as the experience of the football. He loved talking about it. Invariably, after games we'd go back to someone's house and the dads would all sit around the table, dissecting the game, abusing the coach, ripping into the referee, celebrating players and goals and moves. All my mates would be outside playing but I'd sit at the table with the 'old' men, sitting next to my old man, and listen. I loved listening to them. I learned a lot. My father got right into it. I would rarely see him so animated as at these times. Perhaps only when he was at loggerheads with my sister. I was realising that football was something much more to him than just a way to pass the time.
The teams of the Melbourne Greek community, like our South Melbourne Hellas, were more than just football clubs. We'd go to church on Sunday morning and then again in the afternoon at South. Holy church and football church was where people like my father got the peace and meaning and sustenance that were so elusive for them during their working week.
There can be little doubt that part of my initial attachment to football was because of the connection it gave me with Dad. Starved of contact with him during the week, I could, at the football, get into what he was into. I could bind myself to him, become an extension of him. I'm convinced that was the initial source of my engagement with the game. It wasn't about football per se, because I wanted to fit into the bigger 'Australian' scheme of things too. I played cricket and Aussie Rules at school. But I wanted to connect with Dad, and football was the thing, the vessel on board which there was room for both of us. I couldn't discuss his work with him, or Greece, and god knows the family goings-on were in no way the business of a young son. Most of that stuff was beyond a kid and certainly beyond us. But with football I could have a discussion with him, he would talk about it with me almost as an equal. We'd speculate on the team on the way to the ground, the strength of the opposition, who'd win and by how much. And then after the game why we'd won or lost, who'd contributed and who hadn't. I kept on it and I kept with it and I kept digging and prompting and responding; I sensed the connection was real and I wanted more. At that point football was a means to an end, but my desire for my father's attention and company was the precursor to my own love for the game.
---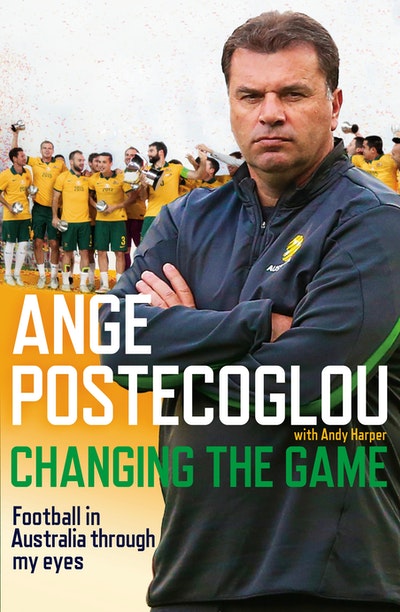 Ange Postecoglou has been at the centre of Australian football for more than thirty years. In this book, he shows us the game through his eyes, from the changing room to the boardroom, to reveal how Australia must boldly reimagine its place in the world.
Buy now
Buy now
---