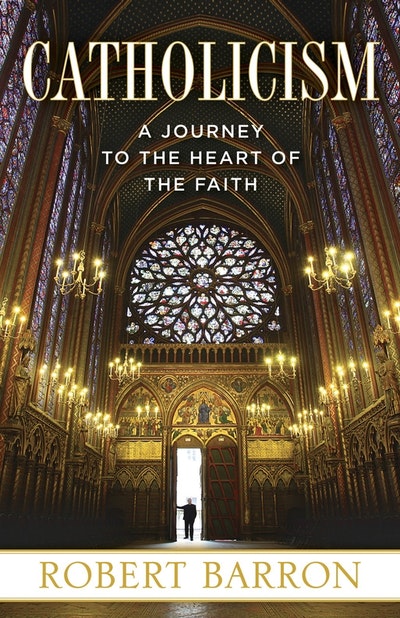 Published:

15 August 2014

ISBN:

9780307720528

Imprint:

Christian/Forum

Format:

Trade Paperback

Pages:

304

RRP:

$32.99
Catholicism
---
---
"Catholicism takes a path less traveled in leading us to explore the faith through stories, biographies, and images."—Timothy M. Dolan, Archbishop of New York
What is Catholicism? A 2,000-year-old living tradition? A worldview? A way of life? A relationship? A mystery? In Catholicism Father Robert Barron examines all these questions and more, seeking to capture the body, heart and mind of the Catholic faith.
Starting from the essential foundation of Jesus Christ's incarnation, life, and teaching, Father Barron moves through the defining elements of Catholicism--from sacraments, worship, and prayer, to Mary, the Apostles, and Saints, to grace, salvation, heaven, and hell. Whether discussing Scripture or the rose window at Notre Dame, he uses his distinct and dynamic grasp of art, literature, architecture, personal stories, theology, philosophy, and history to present the Church to the world. 
Paired with his documentary film series of the same title, Catholicism is an intimate journey, capturing "The Catholic Thing" in all its depth and beauty. Eclectic, unique, and inspiring, Father Barron brings the faith to life for a new generation, in a style that is both faithful to timeless truths, while simultaneously speaking in the language of contemporary life.
Published:

15 August 2014

ISBN:

9780307720528

Imprint:

Christian/Forum

Format:

Trade Paperback

Pages:

304

RRP:

$32.99
"Clarity, intelligence, passion and elegance – these are the marks of a writer in top form, and Father Barron brings all these gifts to bear in this extraordinary reflection on the Catholic faith. If you read one book this year on what Catholics believe and why, this is the book to read – and to share with others." –Charles J. Chaput, O.F.M. Cap, Archbishop of Philadelphia

"Father Robert Barron's Catholicism: A Journey to the Heart of the Faith takes a path less traveled in leading us to explore the faith through stories, biographies, and images. In these pages, we meet the "Word made Flesh" not only in theological formulations, but also in saints and poets, cathedrals and chants, priests and prophets. What makes Catholicism so compelling are the ways in which Father Barron shows how the Incarnation goes on in the true, the good, and the beautiful." – Timothy M. Dolan, Archbishop of New York
 
"Catholicism is one of the most significant efforts ever to advance what Pope John Paul II called 'The New Evangelization.'" –George Weigel, author of Witness to Hope and The End and the Beginning
 
"Prepare yourself for an entrancing tour of the many facets of Catholicism.  From Her art to Her architecture, Her theological riches, to the inspired personalities that have filled Her pews, the Catholic Church is laid bare by a priest who is more than up to the task. Like the Faith it seeks to capture, it is a journey that will leave you full – and then hungering for more." –Raymond Arroyo, New York Times Bestselling Author of Mother Angelica and host of EWTN's The World Over Live
 
"Father Robert Barron is a brilliant academic, a popular writer, a seeker and a seer. In Catholicism he illuminates truths that have the power to set us free. It will be a benchmark book for years to come." –Michael Leach, author of Why Stay Catholic?
 
"When Father Barron is talking, I can't stop listening. Whatever he writes, I can't put down unfinished. He loves the people he addresses. He writes about what matters to us. To read him is to be loved in word after word. In these pages, heart speaks to heart." –Mike Aquilina, co-author of The Mass: The Glory, the Mystery, the Tradition

"Father Robert Barron's great gift is to wed intellectual depth with clarity and vividness of expression. His Catholicism: A Journey to the Heart of the Faith is a superb exploration of the Catholic vision that seamlessly unites theological reflection and masterpieces of architecture and art. The story he tells comes truly alive in his portraits of concrete men and women who, in every age, have lived the journey of faith to the full. –"Rev. Robert Imbelli is Associate Professor of Theology at Boston College


From the Hardcover edition.