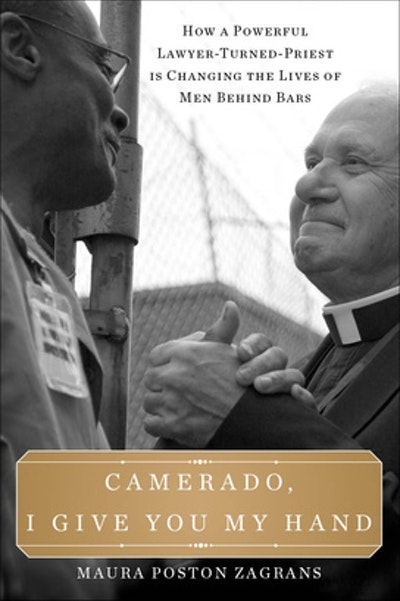 Published:

15 August 2014

ISBN:

9780385348003

Imprint:

Christian/Forum

Format:

Hardback

Pages:

288

RRP:

$37.99
Camerado, I Give You My Hand
---
---
For many years Dr. David T. Link helped young men and women prepare to become lawyers. After his wife died, and at a time in his life when most people retire, Dr. Link felt called to serve the Church and to aid the men that his profession normally put behind bars, ministering healing and forgiveness to murderers, thieves, and what many would call the least of society.
This is a book about the value of human life, and about the transformative power of friendship and compassion. Meeting Father Dave gives us hope that one person can make a difference and, through successive reinterpretations of his own life's purpose, he makes the case for adding our own unique gifts to help the least of these, our brothers and sisters from all walks of life.
"Song of the Open Road" by Walt Whitman
Camerado, I give you my hand!
I give you my love more precious than money,
I give you myself before preaching or law;
Will you give me yourself? will you come travel with me?
Shall we stick by each other as long as we live?
Published:

15 August 2014

ISBN:

9780385348003

Imprint:

Christian/Forum

Format:

Hardback

Pages:

288

RRP:

$37.99
Praise for Camerado, I Give You My Hand
"Lawyer, Dean of the Notre Dame Law School, husband, father, grandfather, widower, and now, Catholic priest. Father Dave Link's story is an inspiration and a challenge to us all.  In his priesthood, Father Dave does more than just visit the incarcerated men he serves; he helps to truly transform their lives.  Camerado, I Give You My Hand brings the story of this remarkable man and dedicated priest to life." – Cardinal Timothy M. Dolan, Archbishop of New York

"Who are the 'least"' of our brothers and sisters, to use Jesus's own words?  Surely among the most forgotten and least cared for are men and women behind bars, whose ranks grow every year.  Often seen by many as undeserving of any sort of human care, indeed of any kind of attention, prison inmates are, in the Christian worldview, among the most deserving of pastoral care.  The deeply moving story of Dr. David T. Link reminds us how God can be found anywhere, how Jesus makes himself known in surprising ways among the poor and marginalized, and why 'visiting the imprisoned' is one of the greatest of all works of mercy." – James Martin, SJ, author The Jesuit Guide to (Almost) Everything

"In this compelling narrative, you will find the life of a man whose passion is making a difference in the lives of the poor, homeless, and prisoners. He and his wife, Barbara, gave themselves with intensity to the powerless and the voiceless while, at the same time, raising a strong loving family. After Barbara's death, his distinguished career as Dean of the Notre Dame Law School, and as the founder of Notre Dame, Australia, the Lord called Dave to dedicate his remaining years to witness His healing love as priest to men behind bars. Here, you will find the loving testimony of the men themselves both powerful and uplifting." -- Reverend Dale J. Melczek, Bishop of Gary, Indiana