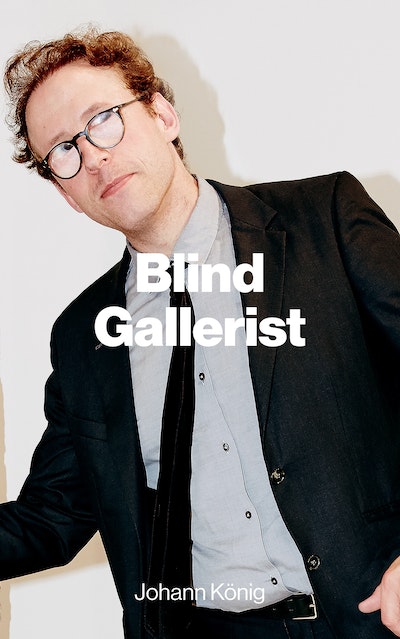 Published:

15 December 2022

ISBN:

9783956796272

Imprint:

MIT Press

Format:

Paperback

Pages:

160

RRP:

$49.99
Blind Gallerist
---
---
The autobiography of Johann König, an influential art gallerist who lost his vision at the age of twelve.
Andy Warhol, Isa Genzken, On Kawara, Rosemarie Trockel—Johann König grew up surrounded by great artists and their art. His hometown of Cologne was recognized as Europe's art capital in the 1980s, largely because of his family's work in the field. The art world, as a result, became his extended family. His father, the renowned curator Kasper König, took him on trips to Jeff Koons's studio in New York; Nam June Paik became his godfather after a "Fluxus baptism"; Gerhard Richter was the best man at his parents' wedding. When Johann was eleven, a tragic accident caused him to lose almost all eyesight. Isolated from the world, he found salvation in contemporary art. And when he was only twenty, he took the risk of starting his own gallery.
What does it mean to become a gallery owner when you can't see? How can you access art if you can't rely on your eyes? In this memoir, Johann König recounts his unique upbringing and equally unique approach to art, one shaped by circumstance and ambition. With distinctive candor, he offers insight into the art world from the perspective of both a true believer and an innovator. Today, with a spectacular gallery located in a Brutalist church in Berlin, he continues his family's legacy while redefining what it means to see art.
"A kind of personal statement of faith, and it makes for touching and sometimes funny reading … A fascinating text."
—Kito Nedo, frieze
"A very entertaining book."
—Kolja Reichert, Frankfurter Allgemeine Sonntagszeitung
"Open and unabashed … Refreshing in the gallery business."
—Tobias Timm, Die Zeit
Published:

15 December 2022

ISBN:

9783956796272

Imprint:

MIT Press

Format:

Paperback

Pages:

160

RRP:

$49.99
Praise for Blind Gallerist
"It is a kind of personal statement of faith, and it makes for touching and sometimes funny reading [...] a fascinating text." —Kito Nedo, Frieze "The book not only tells the moving story of an accident, it also reflects our visual society—and reveals a lot about the mechanisms of the art world." —Die Zeit "While reading this memoir you ask yourself again and again, how was this all possible, if your eyesight is so limited. […] this is a manifesto of someone who tells us what it is like to see and experience the world as a seeing person as well as a blind person. Always knowing that one will return to darkness eventually." —Die Welt