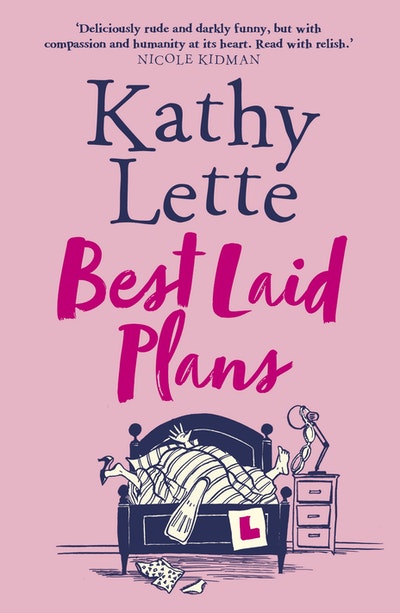 Published:

18 April 2017

ISBN:

9781473544963

Imprint:

Transworld Digital

Format:

EBook

Pages:

320
Best Laid Plans
---
---
Uproariously funny and provocative, tender and life-affirming, this is Kathy Lette at her very best.
TO DO LIST1) Buy hummus2) Pay Pilates teacher3) Find prostitute for son...When it comes to sex, even the best laid plans come unstuck - in the stickiest way possible
As a crossword-addicted English teacher, Lucy never expected to be arrested for kerb-crawling. But her autistic twenty-year-old son Merlin is desperate to lose his virginity, and a prostitute seems like the only option . . . only Lucy picks up an undercover policewoman instead.
Let off with a suspended sentence, Lucy resigns herself to the fact that her son will never have sex, let alone find love. until the morning she miraculously discovers Merlin in bed with a girl.
But is tough, tattooed Kayleigh just taking Merlin for a ride? If so, why? And what has brought Lucy's snake of an ex-husband wriggling back into their lives?
As all her best laid plans for Merlin's happiness chaotically unravel, will Lucy ever be able to cut her son's psychological umbilical cord and start to live her own life? And will the funny, quirky and marvellously magical Merlin ever find real love?
With plenty of comic twists and emotional turns, Kathy Lette's riotous yet heartrending novel tackles the taboo subject of sex for the 'differently abled' - and shows us that when it comes to sex, we all have special needs .
Published:

18 April 2017

ISBN:

9781473544963

Imprint:

Transworld Digital

Format:

EBook

Pages:

320
Praise for Best Laid Plans
With the wisecracking Lette at the helm, the gags flow thick and fast . . . But it is the thread of seriousness in the writing, the insistence on respecting people as individuals and not labelling them, that makes this an exceptional novel.

Mail on Sunday
With her usual mixture of huge heart and humour she rips the stigma out of autism

Ruby Wax
Deliciously rude and darkly funny, but with compassion and humanity at its heart. Read with relish.

Nicole Kidman
A novel that'll have you laughing and crying

OK!
Alternately hilarious and heart-breaking, I loved every minute I spent reading this.

The Daily Mail
Kathy Lette can turn from raunchy farce to the most tender emotion in a trice: this unputdownable book wrenches the heart and the laugh muscles with stunning panache.

Stephen Fry
An important and poignant subject - a mother's search for the perfect girlfriend for her grown-up son with autism - that is also a hilarious and entertaining page- turner, written with Lette's inimitable irreverence, brio and wit.

Jill Dawson
For the good of your immortal soul, and all your other vital organs, read this deeply touching tale.

Billy Connolly
A winning blend of tenderness and hilarity

The Sydney Morning Herald
As her fans will expect and newcomers discover, this tale is perspicacious, pithy and witty. A tale of mother love which will twang your heart strings before you making you laugh out loud.

Sandi Toksvig
Funny as well as touching

Glamour
Plenty of Lette's fast-paced, pun-tastic one-liners

Women & Home
A thought-provoking read

Hello