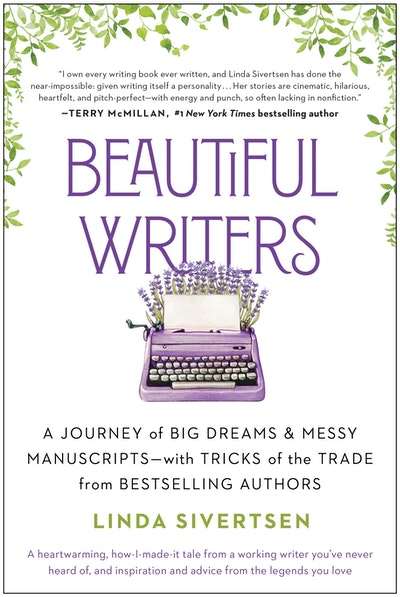 Published:

15 November 2022

ISBN:

9781637741030

Imprint:

BenBella Books

Format:

Paperback

Pages:

304

RRP:

$34.99
Beautiful Writers
A Journey of Big Dreams and Messy Manuscripts--with Tricks of the Trade from Bestselling Authors
---
---
Writers are no strangers to rejection, creative blocks, crises of confidence, and being overwhelmed (and underpaid)—including those who've successfully penned bestsellers. Aspiring writers often look to those iconic authors and wonder, "How did they do it?!"

What if you could ask them?
As a young writer in Los Angeles, Linda Sivertsen was hungry to be more like her literary idols. Fame and fortune seemed to happen so easily—and so fast—for them. But how exactly did these bestselling authors bust through all the obstacles and deliver, day after day, year after year, book after book?
When that question remained unanswered by multiple how-to guides, Linda decided to go straight to the source: her favorite storytellers across multiple genres. So, Linda co-created the Beautiful Writers podcast, where she began interviewing authors for the secrets behind their careers—and, without realizing it, began building a platform of eager listeners who wanted to learn from their shared idols. With more than two million downloads, Linda's podcast has since become a bright beacon of inspiration for writers at all stages of their journeys.
Now, in Beautiful Writers: A Journey of Big Dreams and Messy Manuscripts—with Tricks of the Trade from Bestselling Authors, Linda shares—and expands on—the best of advice and storytelling from the podcast and follow-up interviews with literary greats, including:
• Terry McMillan
• Cheryl Strayed
• Seth Godin
• Steven Pressfield
• Elizabeth Gilbert
• Arianna Huffington
• Sabaa Tahir
• Dean Koontz
• Martha Beck
• Ann Patchett
• Dani Shapiro
• Tosca Lee
• Marianne Williamson
• And many more!
Wrapped around the page-turning, magical, and wonderfully relatable account of the highs and lows of her own career writing award-winning books for herself and others, these stories from the trenches are packed with suspense, laugh-out-loud humor, and raw honesty. Their passion and wisdom will help aspiring writers avoid common pitfalls and energize veteran authors with a treasure trove of writing insights from their peers.
Beautiful Writers is a love letter to reading, to writing, and to everyone who reads and writes. It's the book Linda wished she had when she was starting out. Beautiful Writers will become the evergreen companion for readers and writers everywhere. Write on!
Published:

15 November 2022

ISBN:

9781637741030

Imprint:

BenBella Books

Format:

Paperback

Pages:

304

RRP:

$34.99