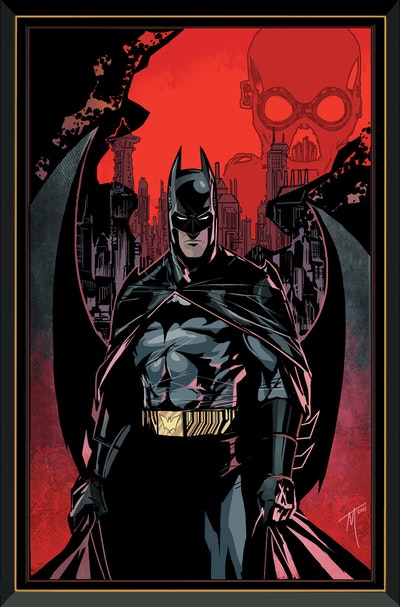 Published:

13 November 2018

ISBN:

9781401284206

Imprint:

DC Comics

Format:

Trade Paperback

Pages:

152

RRP:

$49.99
Batman Gates Of Gotham Deluxe Edition
---
---
Join best-selling author Scott Snyder and discover the rich history of Gotham City in this deluxe version of the New York Times best-selling graphic novel, Batman: Gates of Gotham.
At the turn of the century, three prominent families shaped the construction of modern-day Gotham City. Now a madman with 300 pounds of explosives and a century-old grudge is threatening to bring it all crashing down. Beginning with the simultaneous destruction of some of Gotham's oldest bridges, the mysterious villain is targeting the holdings and legacies of Gotham's most notable families--including the Waynes.
To uncover the truth behind the villainous Architect and his link to the city's violent past, Batman unites with Robin, Red Robin and Batman Inc.'s Hong Kong operative, the Black Bat. But can they stop their new foe's plans before it's too late? The future of Gotham started with an explosion, and it could end the very same way...
The critically acclaimed author of Batman, Scott Snyder, teams with writer Kyle Higgins (Nightwing) and Ryan Parrot for a mystery that stretches back to the earliest days of Gotham, with art by the creative team of Trevor McCarthy, Dustin Nguyen, Graham Nolan and Derec Donovan. Batman: Gates of Gotham Deluxe Edition collects the full Gates of Gotham miniseries issues #1-5, stories from Detective Comics Annual #12 and Batman Annual #28 and sketchbook bonus material.
Published:

13 November 2018

ISBN:

9781401284206

Imprint:

DC Comics

Format:

Trade Paperback

Pages:

152

RRP:

$49.99
Praise for Batman Gates Of Gotham Deluxe Edition
"The dual narratives that Snyder and Higgins weave together mesh so fluidly that Gates of Gotham becomes one hell of an informative page-turner." — IGN "This is a great tale that keeps the reader on the edge of their seat wondering what is in store for them at the turn of the next page…I would recommend all fans of the Dark Knight and his many friends to check this five issue mini-series out. It definitely has everything you could want in a true Batman tale."-- YAHOO! Associated Content "A must read!"--Comic Book Resources   "With GATES OF GOTHAM, Snyder delivers the same top notch mystery and mayhem he has so masterfully delivered in DETECTIVE, by focusing on a mystery and blood feuds as old as Gotham itself...Another phenomenal work from a talent that is on the same stratospheric rise to greatness as the likes of Geoff Johns a few years ago."--Ain't It Cool News