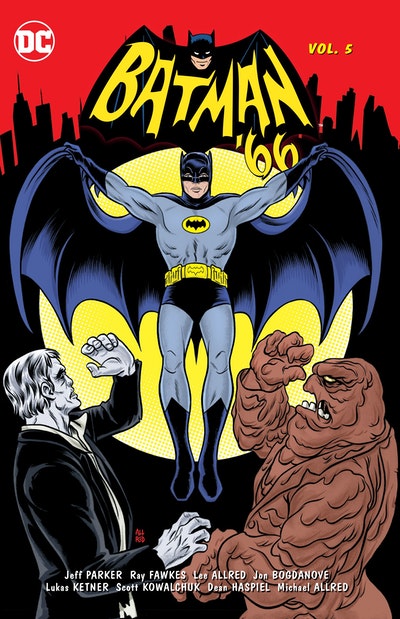 Published:

31 October 2016

ISBN:

9781401264833

Imprint:

DC Comics

Format:

Trade Paperback

Pages:

192

RRP:

$29.99
Batman '66 Vol. 5
---
---
ZOUNDS! THE QUESTIONS ABOUND FOR BATMAN!
WHO is to blame for raising Solomon Grundy from a Gotham cemetery, or forming a mega-malleable monstrosity like Clayface?
WHAT latest emerald enchantment allows Marsha, Queen of Diamonds, to control the minds of men—not to mention Robin, the Boy Wonder?
WHERE will the Dynamic Duo find Poison Ivy as she plants her sinister seeds of sedition? Hopefully not inside the maw of her topiary terror, the Jupiter Flytrap!
WHEN will the Joker-inspired villainess known as the Harlequin unleash her master plan of mayhem on Gotham? Could it happen before temp employee Barbara Gordon assists the city's top ad agency in improving the image of its newest clients, including the Penguin?!
HOW will Batman, Robin and Batgirl wrestle with the back-breaking brutality of the lethal luchador Bane, or his managerial prince of puzzles, the Riddler?
WHY does one chemical concoction grip the Cowled Crimefighters with fear for the Scarecrow, while another transforms a two-bit enforcer into the jaw-snapping Killer Croc?
All will be revealed in BATMAN '66, VOL. 5! Collecting issues #23-30 of all-new adventures inspired by the classic Batman television series, these Bat-tastic battles of heroism are inscribed by Jeff Parker, Ray Fawkes, Gabe Soria and Lee Allred and artistically articulated by Brent Schoonover, Giancarlo Caracuzzo, Jon Bogdanove, Jesse Hamm, Lukas Ketner, Ty Templeton, Scott Kowalchuk, Dean Haspiel and Michael Allred!
Published:

31 October 2016

ISBN:

9781401264833

Imprint:

DC Comics

Format:

Trade Paperback

Pages:

192

RRP:

$29.99
Praise for Batman '66 Vol. 5
"The campy, cool interpretation of the caped crusader from the ever-popular television show elicits all sorts of emotions from comic book readers: from embarrassment to pure joy..."--Comic Book Resources "Even if you aren't a fan of the classic TV show, you'll have a good time here. It's a blast from start to finish."--IGN