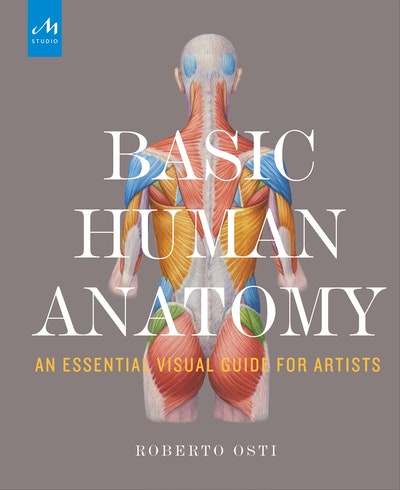 Published:

15 November 2017

ISBN:

9781580934381

Imprint:

Monacelli Press

Format:

Hardback

Pages:

304

RRP:

$69.99
Basic Human Anatomy
An Essential Visual Guide for Artists
---
---
TARGET CONSUMER: Artists at all levels who want a better understanding of human anatomy in order to accurately portray the human form. Audience includes practicing fine artists, illustrators, animators, video game artists, comic book artists, students, serious enthusiast artists.
The first anatomy book that teaches anatomy to artists with a comprehensive, yet flexible and holistic, artist-centric approach to the human body. Osti's method of teaching anatomy is exhaustive and gives readers a firm structural understanding of anatomy, but never loses sight of the fact that this understanding of anatomy should lead to the creation of art. It's a classic approach with a modern, holistic twist.
Basic Human Anatomy teaches artists the simple yet powerful formula artists have used for centuries to draw the human figure from the inside out. Osti, using the basic system of line, shape, and form used by da Vinci, Raphael, and Michelangelo, takes readers step-by-step through all the lessons needed in order to master this essential foundation skill. Organized progressively, readers will learn the following:
-Realistically replicate the underlying structure of the body using easy-to-understand scales and ratios;-Conceptualize the front and side views of the skeleton with basic shapes and add detail with simplified depictions of complex bones and joints;-Draw a muscle map of the body with volumetric form and realistic dimension;-Master the feet, hands, and skull to create realistic renderings of the human form;-Apply a deeper knowledge of anatomy to finished drawings for more impact.
Published:

15 November 2017

ISBN:

9781580934381

Imprint:

Monacelli Press

Format:

Hardback

Pages:

304

RRP:

$69.99