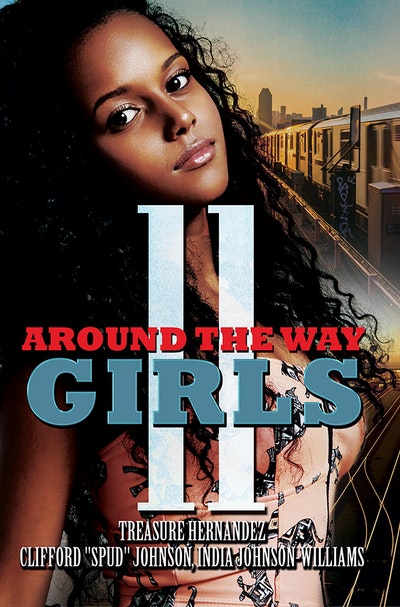 Published:

15 March 2018

ISBN:

9781622866373

Imprint:

Kensington

Format:

Paperback

Pages:

288

RRP:

$24.99
Around The Way Girls 11
---
---
There's a saying that if you come from my part of town, you're from around the way. Around the Way Girls 11 is a fast-paced look at the lives of some street-smart women who think they know it all, but are about to get the lessons of their lives.
"Doing Hard Time" by Treasure Hernandez: Drugs, alcohol, sexual abuse, and petty crimes were all part of the tragic childhood of Tameka Davis. Now she is determined to become everything her ratchet mother isn't, staying in her books and vowing to get out of the hood. Days before beginning her senior year, she meets Harry O, who easily manipulates his new, naïve-to-the-game friend to become a mule for him. In a matter of months, Tameka's new reality becomes far worse than anything she has faced before.
"Party Girls" by Clifford "Spud" Johnson: Tammy and Debbie grew up in the projects on Oklahoma's wicked northeast side. Feeling hopeless, they chose to use their bodies to get what they wanted--until a frightening encounter inspires them to focus on schooling instead of the streets. Now Tammy is the youngest federal judge in the state of Oklahoma, while Debbie is a well-respected accountant. Deep down, though, they are still the same around the way girls from back in the day, and they sometimes still feel the urge to "get freaky with it." Of course, what's done in the dark--or in their case, under the sheets--will always come to light, causing complete and utter chaos.
"Do or Die" by India Johnson-Williams: After a big indictment comes down on some of Detroit's major drug players, their women are left behind to keep the hustle afloat. Overnight their lives change for the worse. In Detroit, it's sink or swim, and eat or you starve; in the dope game, it's kill or be killed. The streets don't care who you are or where you come from. Will Kali, Hope, and Jamaica beat the odds with their quick wit and hustle-hard mentality, or will the game catch them slippin'?
Published:

15 March 2018

ISBN:

9781622866373

Imprint:

Kensington

Format:

Paperback

Pages:

288

RRP:

$24.99