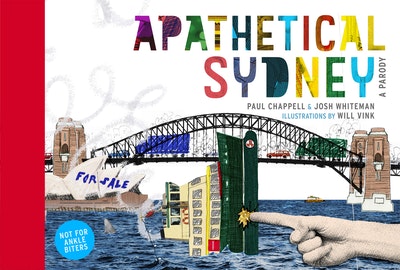 Published:

5 November 2019

ISBN:

9781760892791

Imprint:

Penguin

Format:

Hardback

Pages:

56

RRP:

$24.99
Apathetical Sydney
A Parody
---
---
An A–Z love letter to our pretty but sometimes shitty Emerald City.
Welcome to Sydney – the 'Emerald City',
With the world's nicest harbour, it's really quite pretty.
The surface is gorgeous but give it a scratch,
And you'll see how the upsides all come with a catch . . .
For children, Sydney is a wondrous place of jacaranda trees, chugging harbour ferries and singing ice cream trucks. For the rest of us, Sydney is a cesspit of red-faced road rage, late-running trains and overpriced bloody everything.
In this hilarious homage to the kids' classic Alphabetical Sydney, local creatives Paul Chappell and Josh Whiteman take an adults-only, A–Z tour of one of Australia's most iconic cities to reveal the truth its residents all recognise: while it looks lovely, it's f*cking impossible to live in.
To anyone who's ever had a good moan about the lockout laws, parking wardens or just the whole of the Eastern Suburbs (but knows deep in their cynical heart that Sydney still beats Melbourne hands down): this book is for you.
Illustrations by Will Vink.
Published:

5 November 2019

ISBN:

9781760892791

Imprint:

Penguin

Format:

Hardback

Pages:

56

RRP:

$24.99