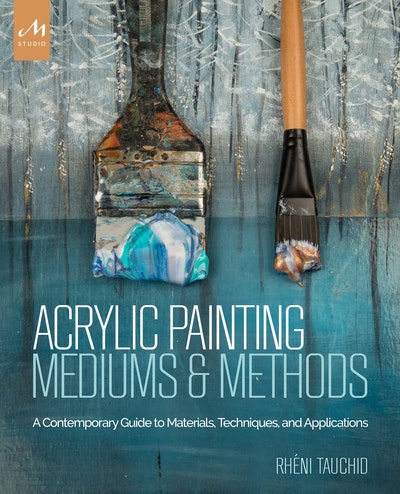 Published:

15 July 2018

ISBN:

9781580934930

Imprint:

Monacelli Press

Format:

Hardback

Pages:

192

RRP:

$79.99
Acrylic Painting Mediums And Methods
---
---
This new, sophisticated, comprehensive reference book will inspire and instruct painters on how to handle today's acrylics in innovative and individualistic ways.
Acrylics have grown into the most adaptable art material for the modern age. Developments in the pigment industry have given acrylics a remarkably permanent, rich, and abundant palette, making it the favorite medium of many contemporary artists. As colors are being developed, their chemical components are also enhanced for better texture and handling.
Readers of Acrylic Painting Mediums and Methods will learn how to create lush textures, vibrant colors, and sensuous surfaces with acrylic paints and mediums. In addition to traditional techniques, such as glazing and staining, this book demonstrates fresh applications, including soft sculpture, printing, and mosaics. A gallery of art from today's top artists working with acrylics is also featured for further creative insight and inspiration. Acrylics are not what they once were, but are in fact benefitting from an evolutionary process that no other paint medium has had the luxury to experience. They are the first truly modern paints because each component of their chemistry continues to evolve as our technology and knowledge expand.
Those who paint, those who teach painting, and those who are learning to paint are all looking for the same thing: a paint that will stand up to just about any task it is given. In acrylics, artists have found answers to many problems left unaddressed by other mediums.
Published:

15 July 2018

ISBN:

9781580934930

Imprint:

Monacelli Press

Format:

Hardback

Pages:

192

RRP:

$79.99
Praise for Acrylic Painting Mediums And Methods
PRAISE FOR THE NEW ACRYLICS Artist and paints developer Tauchid explains the properties and applications of acrylics, a medium touted as "the most adaptable art material of the modern age." Tauchid begins by characterizing this do-it-all, fast-drying paint with its unparalleled clarity of dried pigment and bondable, virtually glass-clear polymers that do not degrade, discolor, or become brittle with time. These nontoxic chemical inventions, on the market for some 50 years, comprise more than 60 percent of all artists' paints sold in North America today. Technical in its approach, half the book describes the chemical components, attributes, production methods, and grades, moving on to a basic primer that lists materials and equipment. Tauchid then progresses to basic applications, which include glazing, underpainting, and staining, and goes on to discuss barrier-breaking alternative approaches (stained glass, acrylic transfer, even soft sculpture), complete with demonstrations. A variety of artists' work in eye-popping color and a wide range of styles amply illustrate this well-indexed resource.  Whitney Scott Copyright © American Library Association. All rights reserved