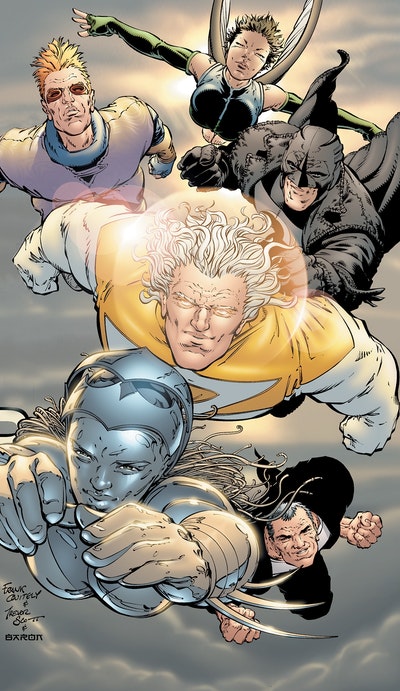 Published:

31 July 2018

ISBN:

9781401281151

Imprint:

DC Comics

Format:

Hardback

Pages:

504

RRP:

$130.00
Absolute Authority Vol. 2 (New Edition)
---
---
Now back in print after several years is the Absolute Edition of Warren Ellis' critically acclaimed, groundbreaking series, THE AUTHORITY!
DC Comics proudly presents a massive slipcased hardcover featuring writer and co-creator Warren Ellis and artist Bryan Hitch's now-classic stories of THE AUTHORITY. This volume includes classic WildStorm imprint characters Apollo, Midnighter, Grifter, Deathblow, Swift, Jack Hawksmoor and more, with the first appearance of the Americans and the G7 Authority!
The Authority travel to space! After they obtain the Carrier (a ship capable of moving through the Bleed, the red space which separates alternate universes in the Wildstorm/DC multiverse), but before they can settle in comfortably, a new threat arises. Having tired of the Authority for interfering with Earth's affairs, as well as for reasons of self-interest, the G7 nations (the United States of America, Canada, France, Britain, Japan, Germany and Italy) establish a new Authority, with each member representing one of their respective nations and under their orders. In removing the current Authority, the United States has Seth Cowie incapacitate each member of the Authority, causing the Carrier to crash into Antarctica, allowing the G7 Authority to commandeer the interdimensional vehicle.
Will the Authority be able to regain control, or is this new Authority team too powerful?
Collects AUTHORITY #13-29, AUTHORITY ANNUAL 2000 #1, WILDSTORM SUMMER SPECIAL #1.
Published:

31 July 2018

ISBN:

9781401281151

Imprint:

DC Comics

Format:

Hardback

Pages:

504

RRP:

$130.00