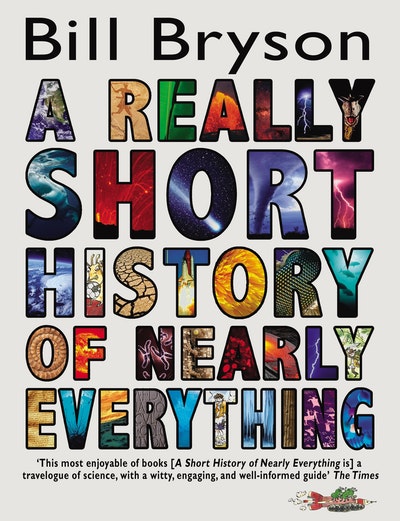 Published:

1 September 2010

ISBN:

9780552562966

Imprint:

Corgi Childrens

Format:

Paperback

Pages:

176

RRP:

$32.99
A Really Short History of Nearly Everything
---
---
---
A new edition of Bill Byson's worldwide bestseller A Short History of Nearly Everything abridged and adapted for children. With full colour illustrations and photographs.
Bill's own fascination with science began with a battered old schoolbook he had when he was about ten or eleven years old in America. It had an illustration that captivated him - a cutaway diagram showing Earth's interior as it would look if you cut into it with a large knife and carefully removed about a quarter of its bulk. The idea of lots of startled cars and people falling off the edge of that sudden cliff(and 4,000 miles is a pretty long way to fall) was what grabbed him in the beginning, but gradually his attention turned to what the picture was trying to teach him – namely, that Earth's interior is made up of several different layers of materials, and at the very centre of it all is a glowing sphere of iron and nickel, which is as hot as the surface of the Sun, according to the caption. And he very clearly remembers thinking: "How do they know that?"
Bill's story-telling skill makes the "How?" and, just as importantly, the "Who?" of scientific discovery entertaining and accessible for all ages. In this exciting new edition for younger readers, he covers the wonder and mysteries of time and space, the frequently bizarre and often obsessive scientists and the methods they used, the crackpot theories which held sway for far too long, the extraordinary accidental discoveries which suddenly advanced whole areas of science when the people were actually looking for something else (or in the wrong direction) and the mind-boggling fact that, somehow, the universe exists and, against all odds, life came to be on this wondrous planet we call home.
Published:

1 September 2010

ISBN:

9780552562966

Imprint:

Corgi Childrens

Format:

Paperback

Pages:

176

RRP:

$32.99
Praise for A Really Short History of Nearly Everything
The incomparable Bill Bryson travels through time to bring bite-sized nuggets of information to the younger readers

Angels and Urchins
This history of life, the universe and everything in between is entertaining and Bryson is an excellent guide. Great for the kids and good for parents, too.

Sunday Express
A great gift and one that will bear dipping into many a time as children discover more about their world and the universe.

Eastern Press
Lively and enticing.

Spectator
Brilliantly abridged and humorously illustrated to appeal to younger readers, it is one to return to again and again.

Good Book Guide
It's an attractive book with some amusing illustrations.

The Scotsman
The need to engage young people in science has never been greater and this book certainly will do this. No school library should be without this instructive, beautifully presented encyclopaedia of scientific wonders.

School Librarian
No school library should be without this instructive, beautifully presented encyclopedia of scientific wonders.

School Library Association
The witty cartoons and photos enliven the page.

INIS
Full of funny, scary and impressive facts and pictures.

The Times
This book is great fun as well as a one-off genius!

Scholastic Magazines
Bryson is well knopwn for his hilarious travel books. Here he sets off on his biggest journey yet...The book is brilliantly illustrated with amazing photos and useful graphics.The story of how we've unlocked many of the secrets of the universe is often as funny as it is impressive...The book is packed with great factoids too...Whatever the story, written in Bryson's funny and easy-to-read style, together with the great illustrations and photos make it a great read.

Thomas Murphy, Flipside
...this paperback version published by Corgi is the perfect gift for enquiring young minds...Entertaining and fun to read, this encyclopedia also makes a great homework aid and is packed full of photographs and quirky illustations.

Aldershot News and Mail
...how about a bit of time-travelling with the incomparable Bill Bryson? A Really Short History of Nearly Everything puts the fun into scientific discovery. This specially adapted children's edition of his global bestseller is packed with illustrations and Bryson's trademark wit and wisdom. The perfect gift for enquiring minds.

Pam Norfolk, Lancashire Evening Post
A few experts have quibbled over the accuracy of some of the details, but it is intriguing and entertainingly written.

Alison Jay, The Sunday Times
Written with his inimitable style and humour let loose upon who we are, how we got here and the systems that support us which is all beautifully illustrated.

Publishing News