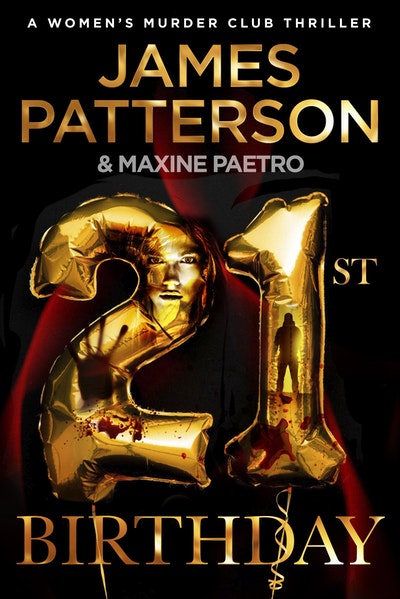 Published:

1 February 2022

ISBN:

9781529157277

Imprint:

Century

Format:

Paperback

Pages:

400

RRP:

$19.99
21st Birthday
A young mother and baby daughter go missing (Women's Murder Club 21)
Extract
PROLOGUE
CINDY THOMAS FOLLOWED Robert Barnett's assistant down the long corridor at the law firm of Barnett and Associates in Washington, DC.
This meeting could be the beginning of something terrific, and she had dressed for the win; sleek black dress, tailored leather jacket, a touch of lipstick, and an air of confidence that came from the material itself.
As a senior crime reporter for the San Francisco Chronicle, she had dominated the inside track, investigating and reporting on the vilest and most audacious serial murders of our time.
Bob Barnett, a lawyer and a literary agent, had represented her true-crime epic, Fish's Girl, making a very respectable sale to a good publishing house. Then, as was said, "It debuted to great reviews" and had briefly touched the hem of the Times Best Seller list.
Fish's Girl was the real-life story of a psychopathic serial killer with an equally deadly and immoral girlfriend. Reporting for the Chronicle, Cindy had helped the police catch "Fish's Girl," and the finale in the book — and in real life — had been a shoot-out. Cindy had been winged by a 9mm bullet and then returned fire, bringing down the psycho killer herself.
The entire Fish's Girl experience had been extraordinary, but now it was old news. Industry press reported that book sales were down in all categories, and Cindy had been busy with her all-consuming day job.
Then, last week, Bob Barnett called her at home, saying, "I've been following your Burke serial avidly. Great work, Cindy. If you craft it into a proposal, I believe I can sell it."
He'd asked her to write a treatment of the story; an introduction, a chapter outline, and at least one fully written chapter to show off her style for those potential deal makers who didn't read the Chronicle. He had offered her a plane ticket and a room at the Ritz if she would fly to DC and meet with him about her recent coverage of the serial murders. Cindy had allowed herself to hope that Barnett would work his magic again.
"Call me when you're ready," he had said.
It hadn't taken long.
Now, Barnett's assistant led her into the corner office, told her that the boss was running a little late, and said, "Make yourself at home, Ms. Thomas. I'm right outside if you need anything."
The office looked just as Cindy remembered it. The carpet was grass green. A slab of green marble was set into Barnett's desktop, and potted orchids, most in full bloom, stood proudly one very flat surface. The floor-to-ceiling bookcase at a right angle to Barnett's desk held every book he'd sold; Cindy saw Fish's Girl was at eye level slightly out of line, as if Bob had taken it out to review before this meeting.
Cindy loved seeing it fitted in between the big author names, and after snapping a selfie with her book to show Richie, she took a seat on the sofa in the meeting area.
She was ready for Barnett when he strode into his office, saying, "Cindy, I'm so sorry I kept you waiting."
"Not a problem, Bob."
He shook her hand with both of his and took the chair at an angle to her seat on the sofa. He was a nice-looking man, designer glasses, natural tan, thick gray hair, and he was easy to talk with.
"I've been enjoying the view," Cindy said. "And the orchids."
"I'm a genius with orchids," he said. "And not too bad at picking winners, either."
She smiled appreciatively, and leaning forward, he got to the point.
"I read your proposal in one sitting. This story is right up there with Helter Skelter, Black Dahlia, and In Cold Blood. I'm dying to hear the up-to-the-minute conclusion. We get the right people on board, this story could be a monster, Cindy. An absolute monster."
PART ONEFIVE MONTHS EARLIER
CHAPTER 1CINDY THOMAS WAS at work in her office at the San Francisco Chronicle on Monday at 5:30 p.m. when she heard a woman calling her name.
More accurately, she was screaming it.
"Cinnnddyyyyyyy!"
Cindy lifted her eyes from her laptop, looked through her glass office wall that faced the newsroom, and saw a tall, nimble woman zigzagging through the maze of cubicles. She was taking the corners with the deftness of a polo pony as a security guard with a truck-sized spare tire chased her — and he was falling behind.
As a reporter, Cindy had a sharp eye for details. The woman shrieking her name wore yoga pants and a Bruins sweatshirt, a knit cap over chin-length brown hair, and mascara was bleeding down her cheeks. She looked determined — and deranged. The woman, who appeared to be in her mid-forties, didn't slow as she raced toward Cindy's open door, but a moment later, the lanky woman was inside Cindy's office, both hands planted on her desk, black-rimmed red eyes fastened on hers.
She shouted at Cindy, "I'm Kathleen Wyatt. K.Y. You remember?"
"Your screen name."
Wyatt said, "I posted on your crime blog this morning. My daughter and her little baby girl are missing and her husband killed them."
Security guard Sean Arsenault pulled up to the doorway, panting. "I'm sorry, Ms. Thomas. You," he said to the woman who was leaning over the desk. "You come with me. Now."
Cindy said, "Kathleen, are you armed?"
"Be serious."
"Stand by, Sean," Cindy said. "Kathleen. Sit down."
The guard said that he would be right outside the door and took a position a few feet away. Cindy turned her attention back to the woman now sitting in the chair across from her desk and ignored the inquisitive eyes of the writers in the newsroom peering through her glass office wall.
Cindy said, "I remember you now. Kathleen, I had to take down your post from my blog."
"He beats her. They're gone."
Cindy's publisher and editor in chief, Henry Tyler, leaned into her office. "Everything okay, Cindy?"
"Thanks, Henry. We're fine."
He nodded, then tapped the face of his watch.
Cindy nodded acknowledgment of the six o'clock closing. Her story about a shooting in the Tenderloin was in the polish phase. Henry had a word with Sean and then closed the door.
Cindy turned back to Kathleen Wyatt, saying, "You accused a man of murder and used his name. The rules are right there on the site. No vulgarity, name-calling, or personal attacks. He could sue you for defamation. He could keep the Chronicle in court until the next ice age."
Wyatt said, "You come across as such a nice person, Cindy. But like everyone else, you're all about the money."
"You're doing it again, Kathleen. I'm going to have to ask you to leave."
The woman folded her arms over Cindy's desk, dropped her head, and sobbed. Cindy thought Kathleen Wyatt seemed out of her mind with fear.
Cindy said, "Kathleen. Kathleen, do you know for a fact that this man murdered your daughter and granddaughter?"
Kathleen lifted her head and shook it. "No."
Cindy said, "Another question. Have you called the police?"
This time when Kathleen Wyatt raised her head, she said, "Yes. Yes, yes, yes, but have they found the baby? No."
---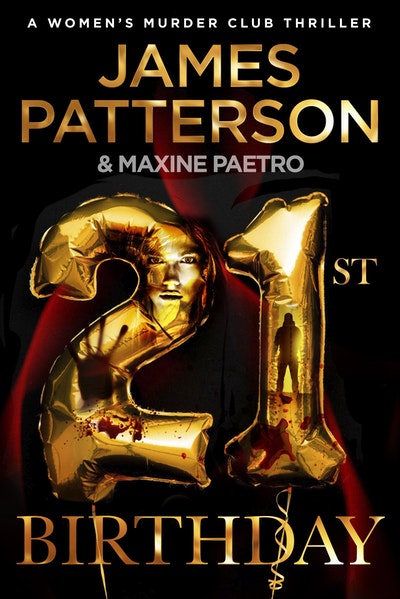 In the latest instalment in the globally bestselling Women's Murder Club series, SFPD Sergeant Lindsay Boxer vows to protect a twenty-year-old victim long enough to see her twenty-first birthday.
Buy now
Buy now
---