Stevie J's roller-coaster career was landmarked by a series of challenges and hurdles, both on and off the field.
Steve Johnson – or Stevie J as he is affectionately known – is famous for his ability to reinvent himself. From troubled talent to AFL superstar, The Cat with the Giant Story is a story of redemption: of a misbehaving larrikin with a competitive spirit. In the following passage from his book, Stevie recounts a turbulent period when his larrikin tendencies went too far and put the fate of his footy career on the line.
 
It was 3 January 2007, and I was being grilled by some of the most powerful figures in Geelong's football department. Every member of the player leadership group was in the room, except for Tom Harley, who had been unable to make it back from his then girlfriend's (now wife's) parents' home at Lake Conjola on the New South Wales south coast. Harls was taking part in the meeting by phone. Supporting the leadership group in the meeting was our newly appointed football manager, Neil Balme, and Gerard Murphy from Leading Teams was there as well.
I was being grilled for two reasons. On Christmas Eve I had been locked up by the police after having too many beers back home in Wangaratta; and I had not reported the incident to the club. Harls was filthy that I had tried to get away with it. He was probably darker on that aspect of the situation than the fact I consumed way too much alcohol for a bloke who was supposed to be doing everything in his power to get his injury-prone body right for the 2007 season.
My timing could not have been worse. The club was making a real effort to turn around our culture of mediocrity – a culture that was centred around having a good time but not winning premierships. I had become the leadership group's first crisis to deal with and their first chance to make a stand.
As the meeting unfolded, it wasn't only Harls who landed a few blows on me. A lot of the other players said things to me. A couple of my really close mates backed up Harls by reiterating that they had had enough of my lack of discipline and weren't sure if they wanted me at the club anymore. To hear it from them really hit home.
As the leaders continued to lay down the law, Cameron Mooney, who was something of a reformed bad boy himself, pointed at me and said, 'We don't want to run into you in a pub in Wangaratta in 20 years' time and hear you talking about how good you could have been. That would be a waste. We know how much talent you've got. But something's got to click with you if you're going to reach your potential in the AFL and earn back our trust.'
At the time I felt I little bit hard done by. My recollections of the night in Wangaratta were a bit hazy, plus I was only just starting to recover from the bruises that had covered my body after the police had arrested me in an overly aggressive manner. It's not that I didn't think I had done anything wrong in terms of the rules that elite footballers live by. Sure, I'd had a fair few beers – too many for a bloke who believed he was getting close to his last chance, it's fair to say – but out of our list of 40 blokes, I'm guessing 38 of them would have had too many beers at least once over the Christmas/New Year break. This was the old culture of our club and what I was used to. If you weren't having a good time and going out all the time you were an outlier. If you didn't turn up at Lamby's (one of Geelong most popular night spots) on a Sunday night after a win you would be questioned at training the next day.
So I was a little bit taken aback as I looked around the leadership group. I hadn't been caught drink-driving. I hadn't assaulted someone or done something really dangerous or nasty. In fact, I had been assaulted myself. Deep down, I felt like Harls had been secretly hoping that a player would stuff-up over the break so that he and his fellow leaders could demonstrate the newly empowered ability to crack down on player misbehaviour.
As the barrage from the leaders continued, I couldn't help thinking that that some of the players shooting me between the eyes were not exactly choir boys. Lingy was one of the most social guys in the club. He had invited me to go to Adelaide and get on the piss with him for New Year's Eve. And here he was saying, 'What are you doing on the piss?' I hadn't been told I couldn't drink. The instructions from the club were more around staying out of trouble and giving my knee the chance to recover.
As the meeting went on, however, it became clear that not owning up about what happened was the thing everyone was most shitty about. I had to cop that. I had made a big mistake in thinking it would all just blow over.
At the end of the meeting, I was told that no punishment would be handed down there and then. Nothing was to be determined until Harls returned to the club. The leaders told me that they cared about me and that they knew my footy ability had the potential to really help the team. But they said they could no longer ignore my behavioural problems. They left me in no doubt that my career was hanging in the balance.
---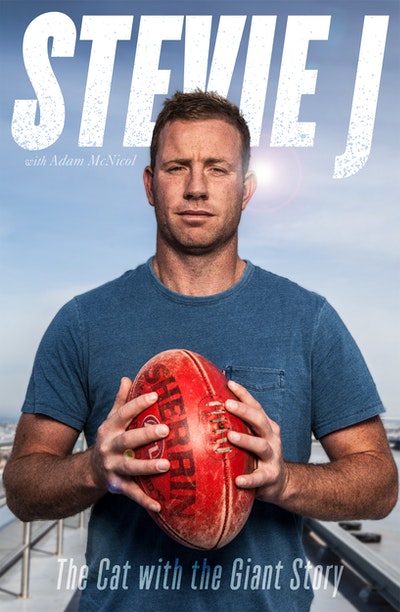 Steve Johnson has become the king of reinvention – from misbehaving larrikin to premiership star; from Cat to Giant – and he's been at the heart of two of the most remarkable AFL teams of modern times: the great Geelong triple-premiership side, and the coming juggernaut of Greater Western Sydney.
Buy now
Buy now
---